Grilled Baby Gem with Charred Jalapeño Ranch Dressing
Summer is here and that means it's officially grilling season.  It's not that I don't grill during the rest of the year, in fact, I'm content with barbecuing in a blizzard.  But now that we're finally getting some good weather, I'm basically doing all my cooking outdoors.  I'll grill anytime, and I'll grill anything.
For this post, I've partnered with HomeSense. HomeSense is my go to spot for all my BBQ entertaining essentials.  They've got tons of outdoor dishes, glasses, and all the accessories you could ever need, everything is at a great price too.  With Father's Day around the corner, It's the perfect spot to find gifts as well.  Click here to find your local HomeSense.
Homesense provided me with some great grilling accessories for this post so in addition to the recipe, I'm going to share a few tips and accessories that I really loved.
Everybody likes to grill burgers, steaks, hotdogs, and chicken, but there are so many other fun things that taste great when grilled.  I'm a big fan of wedge salad, especially during the summer. It's something I make all the time.  All you need is a crisp green like romaine, iceberg lettuce, or in this case baby gem, and a creamy ranch.  You could throw that on a plate and call it a day.  Or, you could step up your game and grill your wedge salad.  It's super easy and also a fun way to change things up from the usual routine.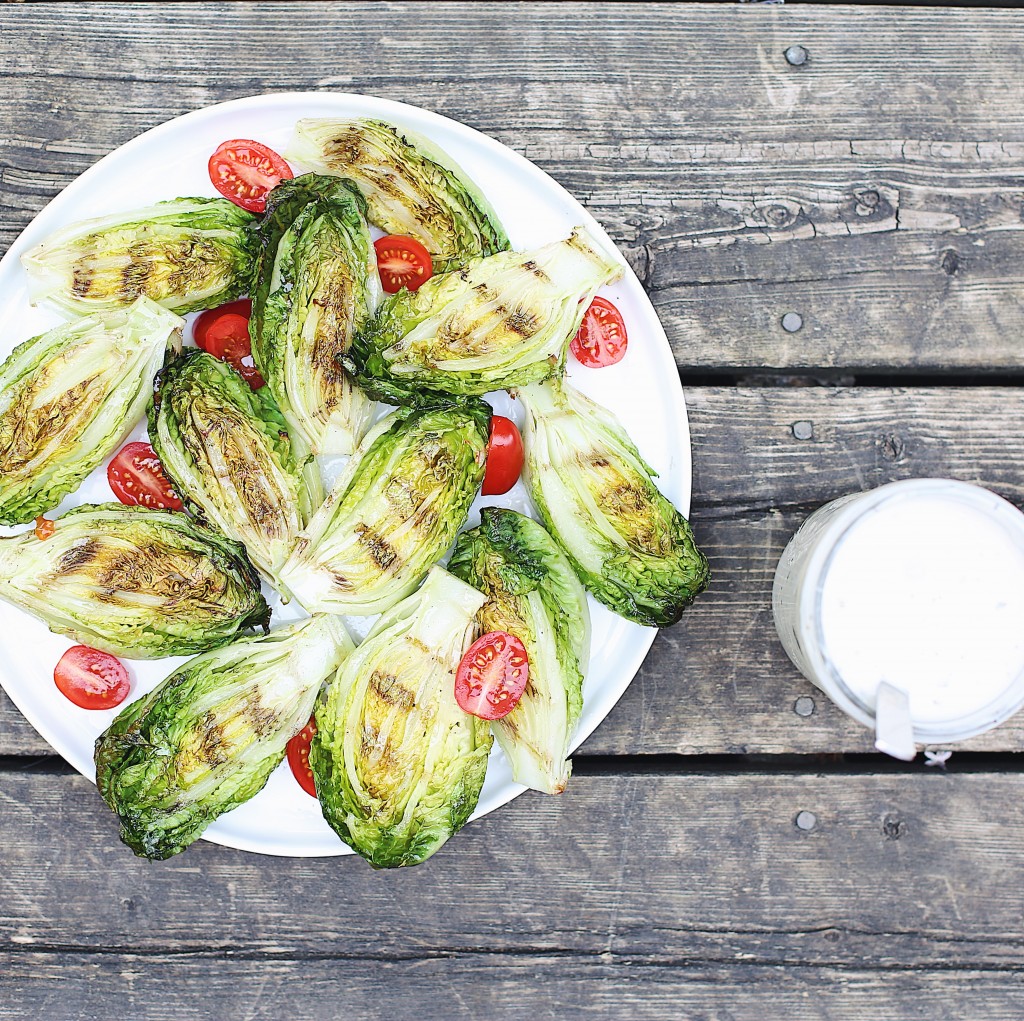 Grilling baby gem takes no time at all.  A minute on a hot grill is all you need to get a bit of a char and tons of smokey flavour.  The Jalapeño buttermilk ranch also goes perfect with the grilled greens.  I take all the seeds out so its not too spicy but you definitely still get a bit of heat.  If you don't typically make your own ranch dressings, you should.  You only need a few ingredients and it's so much better than store bought.  You can change it up really easily by adding herbs or different spices.  I often add dill and parsley to this dressing as well.  I also like that you can completely control the consistency of the dressing.  Just add a bit more buttermilk to thin it out or add a little more yogurt if you prefer a thicker dressing.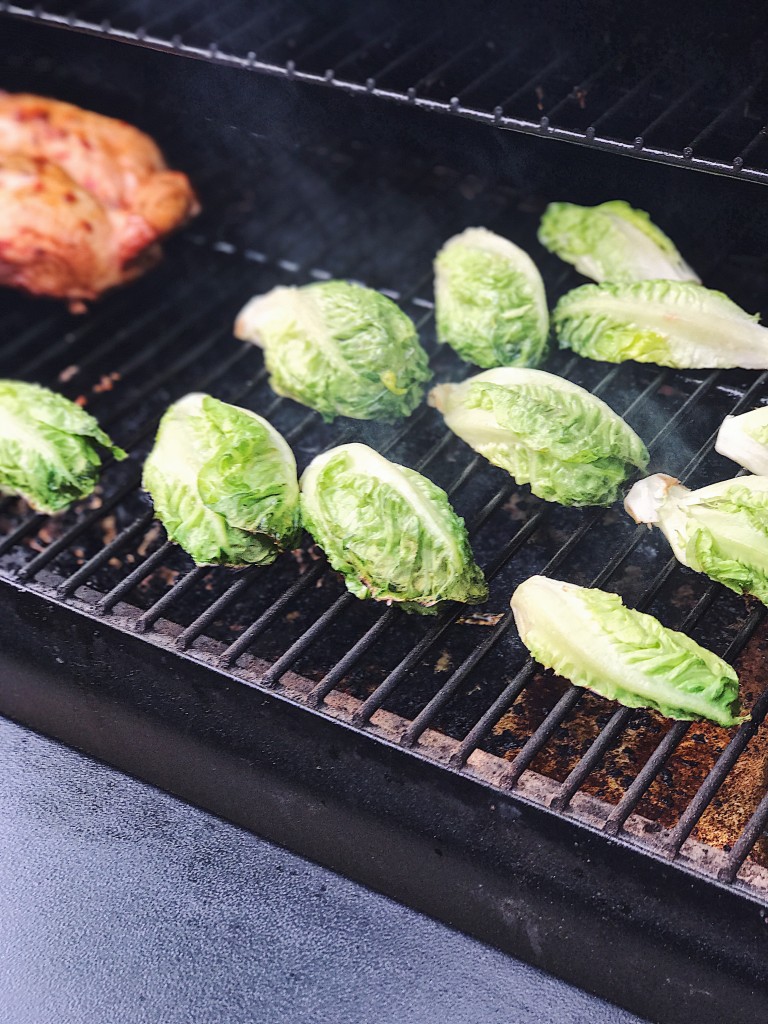 I wanted to keep this salad relatively simple so I just added a handful of cherry tomatoes.  But you could make things a bit more interesting by adding different veggies or even fruit.  Cucumber and onion are always safe bets but some sort of citrus like orange or grapefruit would also be a fun addition.  Same goes for cheese.  I often add feta or blue cheese to my wedge salads.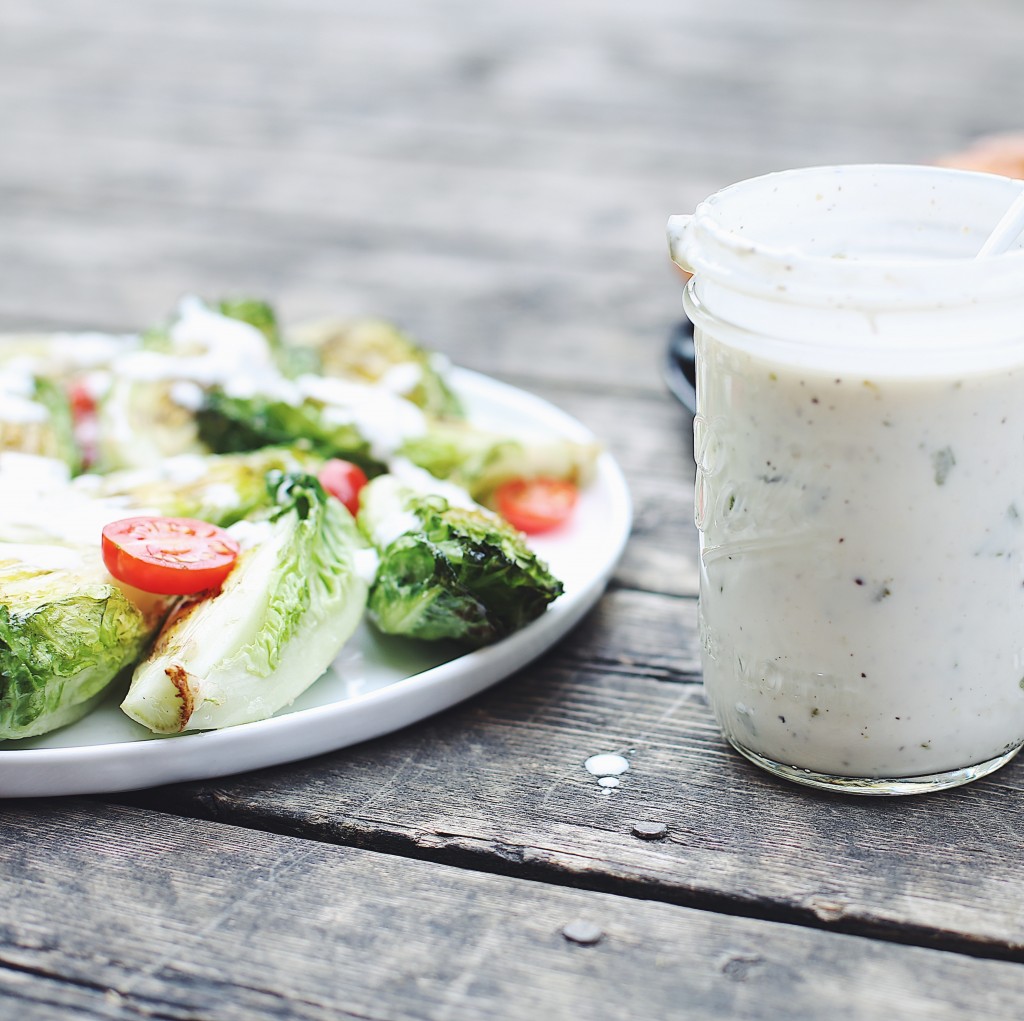 Before I get to the recipe, I want to share a few of the grilling accessories that I got from HomeSense.  First is this burger mold.  I typically don't use burger molds because I find they over compress the burger and make it tough.  That's not an issue with this one though, since the meat doesn't get squished down. You just gently fill it up, and then cover it with the lid.  I always like to have a batch of burgers in the freezer and this mold is perfect for that.  The hexagon shape is also a fun change.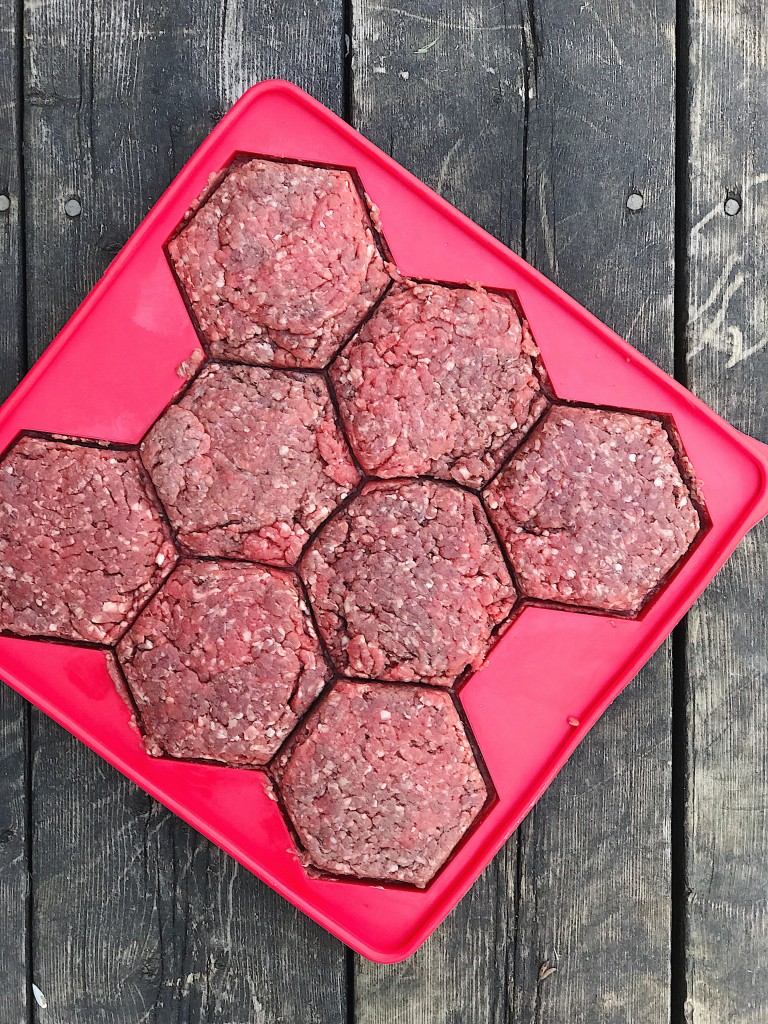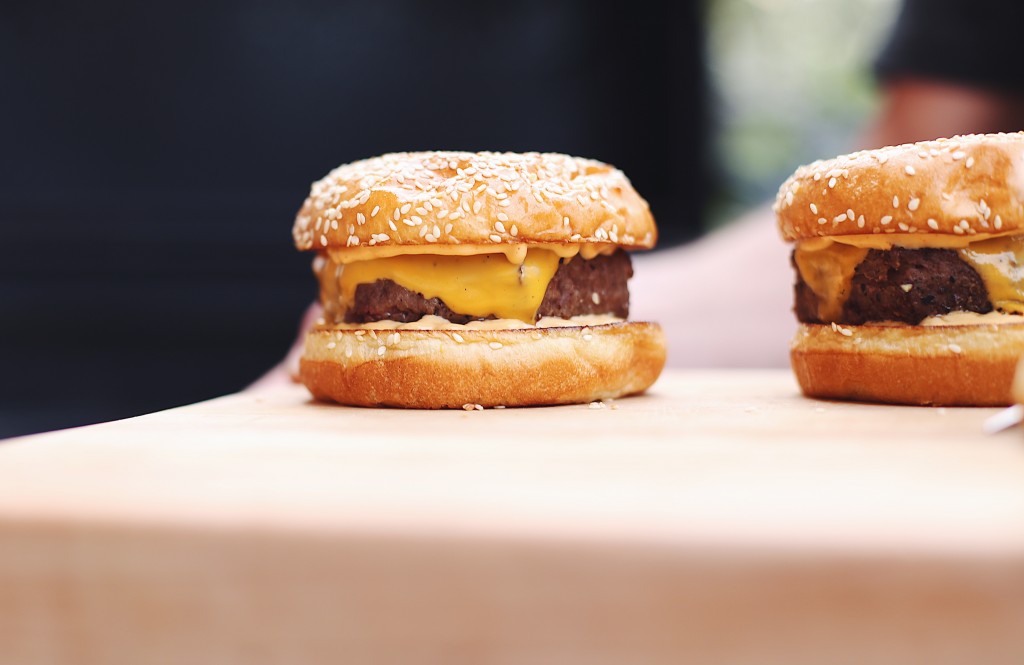 Another great accessory are these mini thermometers.  I always like to use thermometers when I'm grilling whole chickens.  For me, it's the best way to tell when it's done.  This set has 4 thermometers so they also are perfect for cooking multiple steaks and ensuring each one is cooked perfectly.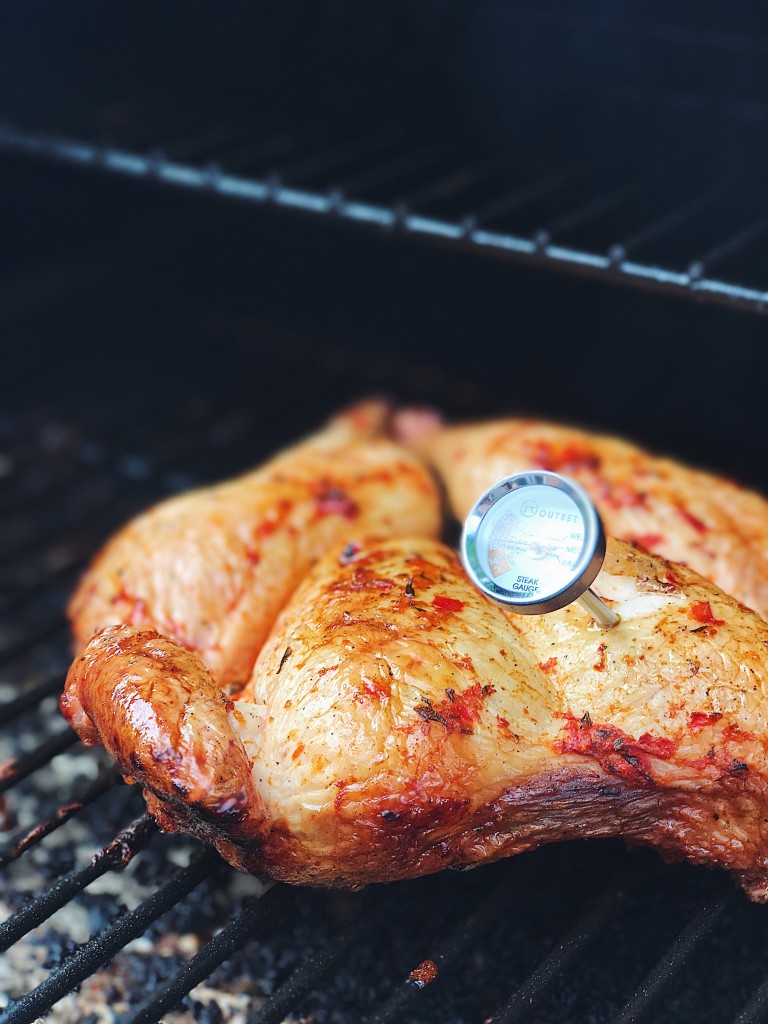 The last accessory that I want to share is this BBQ wok. I love these for doing small veggies on the grill that could easily fall through the grates.  It's perfect for doing onions to go along with your burger.    All the other accessories in this post are also from HomeSense, so if you see anything you like, you know where to get it.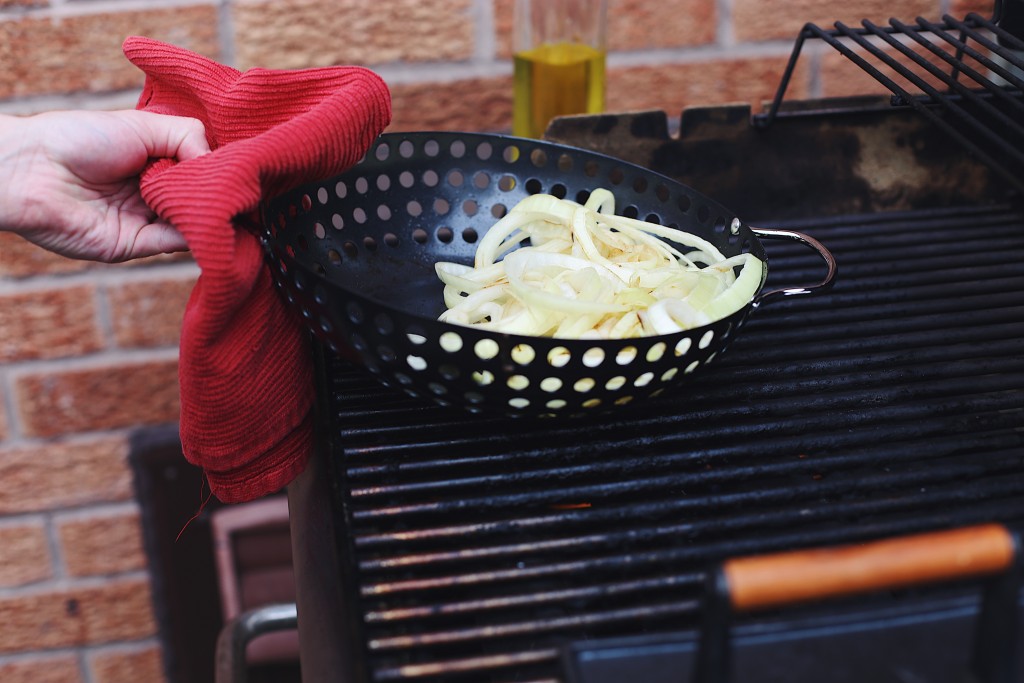 Grilled Baby Gem with Charred Jalapeño Ranch Dressing
Ingredients
For the Dressing
1/2 cup buttermilk
1/4 cup greek yogurt
1/4 cup mayo
1 lemon, juice and zest
1 jalapeno
1 clove garlic, minced
1 tsp kosher salt
1/4 tsp black pepper
For the salad
6 heads of baby gem lettuce, halved lengthwise
12 cherry tomatoes, halved
1 tbsp olive oil
1 tsp kosher salt
Method
Preheat your bbq to medium-high heat.  To make the dressing, start by charring the jalapeño on the BBQ until it is totally blackened.  Carefully remove it and place it in a small bowl and cover with plastic wrap until cool enough to handle.  In the meantime, combine all other dressing ingredients in a medium bowl or jar.  When the jalapeño has cooled down, carefully scrape off the charred skin using a sharp knife.  Slice the pepper in half lengthwise and then scrape out the seeds.  Discard both the seeds and skin.  Finely chop the flesh of the jalapeño and then add it to the dressing.  Stir well to combine and keep dressing in the fridge until ready to use
Cut each baby gem in half ensuring to keep the base intact.  Toss them in a bowl with olive oil and salt and then grill cut side down for about 1 minute.  You just want a bit of colour on them.  Remove the lettuce from the grill and arrange on a serving plate with the halved tomatoes.  Drizzle the salad with the ranch and serve extra dressing on the side.