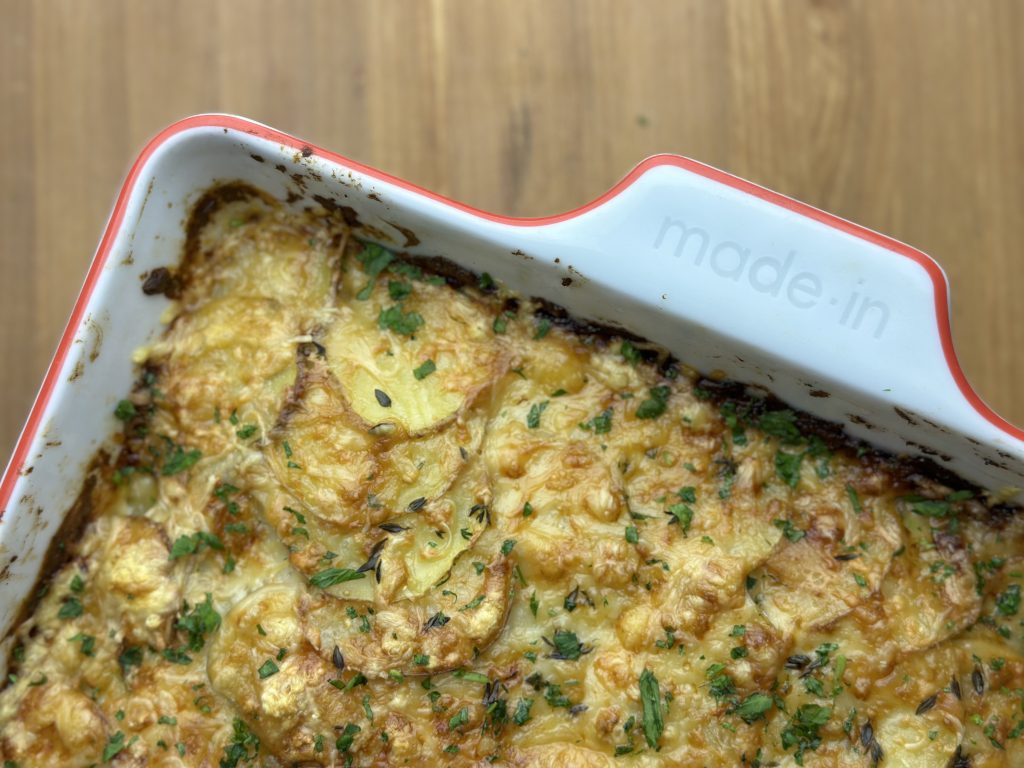 These cheesy scalloped potatoes (also known as au gratin) are one of the most comforting and satisfying things you can make. They're a perfect side to any steak dinner, and also make for a show stopping presentation for dinner parties or holidays. It's easy to prep in advance with basic ingredients that you probably already have on hand.
Ingredients
3 lbs Yukon gold potatoes
3-4 large onions
1/4 cup butter (half a stick)
1/4 cup flour
2 cups whole milk
1 cup chicken stock (substitute for vegetable stock to make dish vegetarian)
2 cups shredded cheese (I used equal parts gruyere, emmenthal and cheddar)
2 sprigs of thyme
fresh herbs for garnish
salt and pepper to taste
Method
Start by evenly slicing, and then slowly caramelizing all the onions over low heat until deeply browned. I like to do this step in advance and then store the caramelized onions in the fridge until ready to be used.
Melt the butter over medium-low heat, and then stir in the flour. Constantly stir for 2-3 minutes until golden brown. Slowly whisk in the milk and chicken stock, stirring constantly. Season with salt and pepper and add the thyme. Allow to simmer over low heat for about 5 minutes until thick. You'll know it's ready when the roux coats the back of your spoon. Remove thyme, and take off the heat. Add half the cheese and stir until melted. Set aside while you prepare the potatoes in the next step
Preheat oven to 350°F. Use a mandoline to evenly slice the potatoes into very thin disks. Grease a 9″x13″ baking dish and then evenly layer the potatoes, overlapping as you go. After each layer, brush on a coating of the cheesy roux, and top with caramelized onions in even dollops. Continue until all the potatoes are used, and then top with a final layer of roux, evenly pouring on any remainder. Cover baking dish with foil and bake for 1 hour.
At this point, you can either store in the fridge until you are ready to serve, or continue baking to finish the potatoes. When ready to finish top the potatoes with the remaining cheese, and increase your oven to 450ºF. Bake uncovered for 10-15 minutes until cheese is bubbling and potatoes the top layer of potatoes are starting to crisp. Depending on your oven, you may need to broil for a few minutes.
Allow the potatoes to rest for at least 15 minutes before slicing and garnish with freshly chopped parsley or chives.