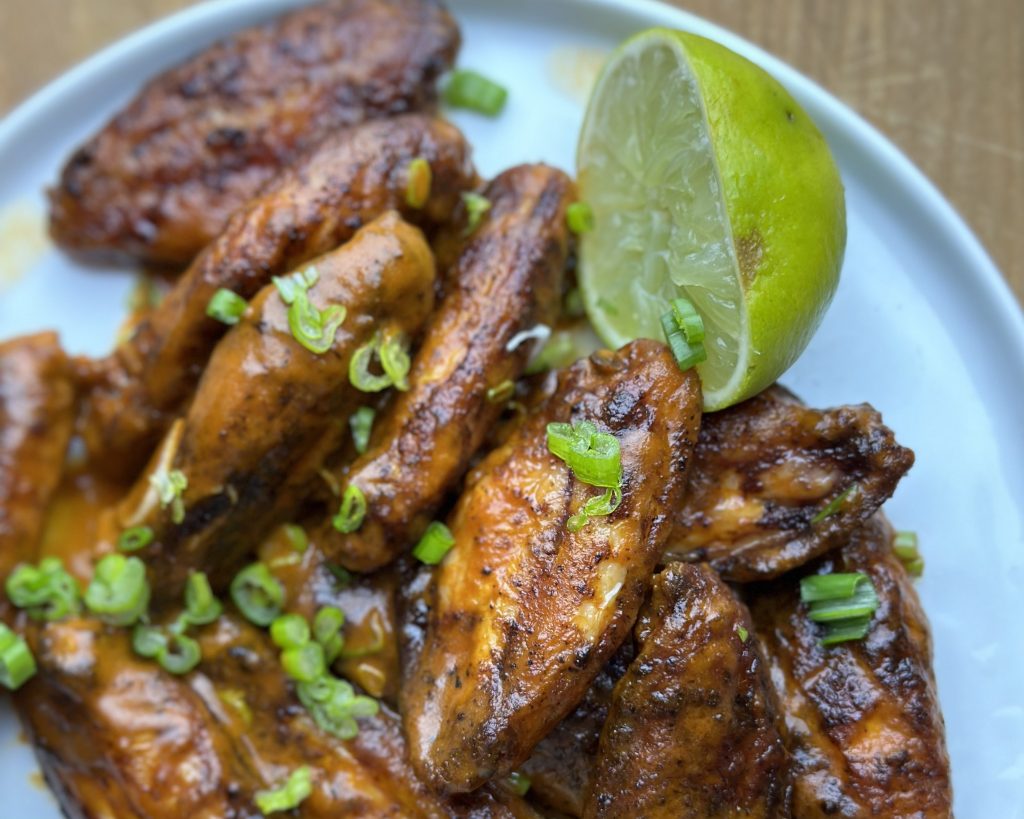 This crowd pleasing chili-lime chicken wings recipe only uses a handful of ingredients and is easy to prep in advance, perfect for game-day.
Ingredients
2 lb chicken wings
1/4 Traeger chili & garlic rub
1/4 cup Valentina hot sauce
3 tbsp butter
1 lime
Maggie Seasoning
1 green onion, thinly sliced
Oil for frying
Method
Start by heavily seasoning the wings and allowing them the cure in the fridge for several hours and up to overnight. The cure is optional, but will help draw out excess moisture, resulting in a crisper crust and juicer wing.
I like to cook these in a smoker, but this recipe also works in an oven. Pre-heat your smoker to 225°F and cook wings for 3 hours. At this point you can either fry your wings right away, or store the wings in the fridge or freezer until ready to serve. When ready to fry, heat oil to 375°F and drop in wings for 1-2 minutes until golden and crispy.
To make the sauce, gently heat the valentina and whisk in butter until combined. Squeeze in the half the lime and season with a dash of Maggie.
Toss wings in the sauce along with the sliced green onion and serve hot, with additional lime.
Tips
Feel free to adapt this recipe and substitute in your favorite Mexican hot sauce. I like extra hot valentina, but Cholula and Tapatio also make great choices.
If you don't have Maggie seasoning, you can either omit, or replace with a dash of Worcester sauce.
The wings can be smoked/baked in advance, and then frozen in large batches for easy prep when ready to serve. The wings can be fried from frozen.
If baking in the oven, add a dash of liquid smoke to replicate that wood-fired flavor.