Creamy Pumpkin Bucatini with Bacon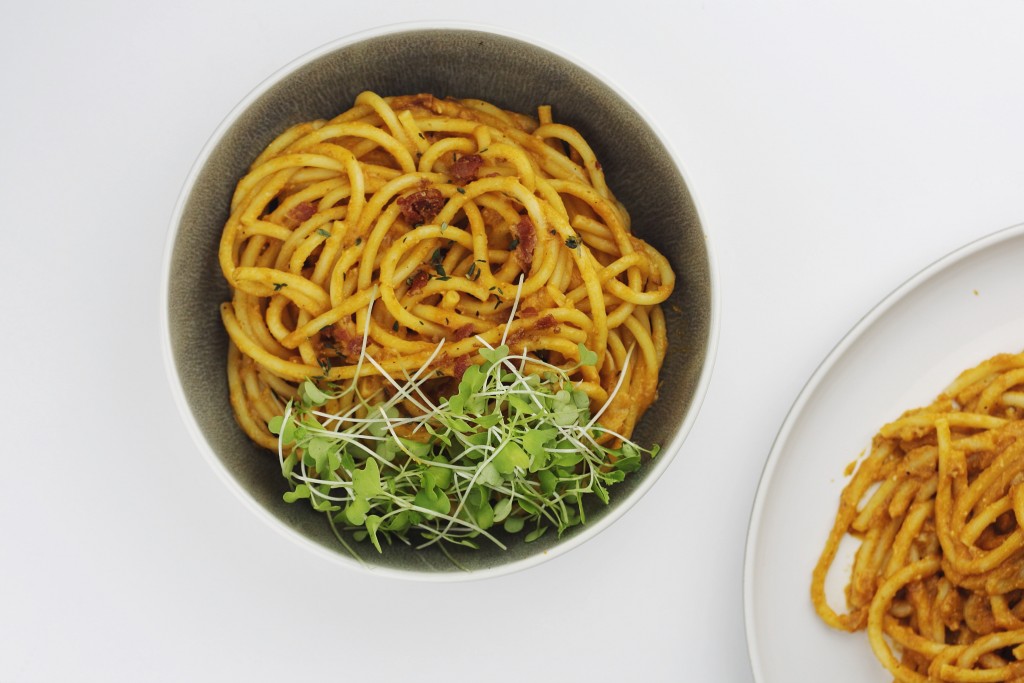 If you read my last post on pumpkin cinnamon rolls, you'll know that I was never much of a pumpkin fan.  I didn't necessarily not like it, it was just something that I tended to avoid for whatever reason.  After making those rolls and really enjoying them, I had a whole bunch of leftover pumpkin purée that I needed to use up.
I was in the mood for pasta and I knew that pumpkin would make a great base for a sauce.  One of the great things about this recipe, and many other pasta recipes is that it can be made with ingredients that you probably already have in your pantry and fridge.  I used a few fresh ingredients like sage and thyme but if you don't have those, you could easily skip it or use dried herbs.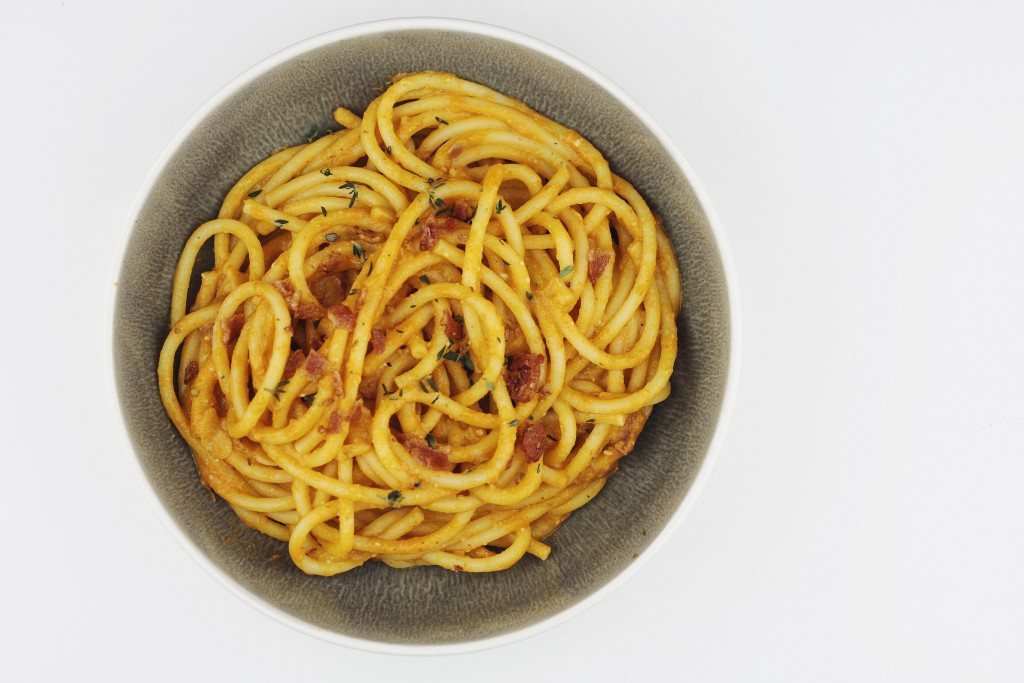 Dried pasta is also something that I always have around. If you aren't familiar with Bucatini, its kind of like a thick spaghetti.  It's really good and perfect for hearty sauces like this or something like a bolognese.  If you don't have it, regular spaghetti is a good substitute.
Also, you can easily make few substitutions to make this pasta vegetarian.  Obviously skip the bacon.  You don't need to replace it with anything but I think a good textural substitute is sun-dried tomato.  They go crispy but still keep their chew when fried kind of like thick cut bacon.  And you can swap the chicken stock with vegetable stock or even just some extra pasta water.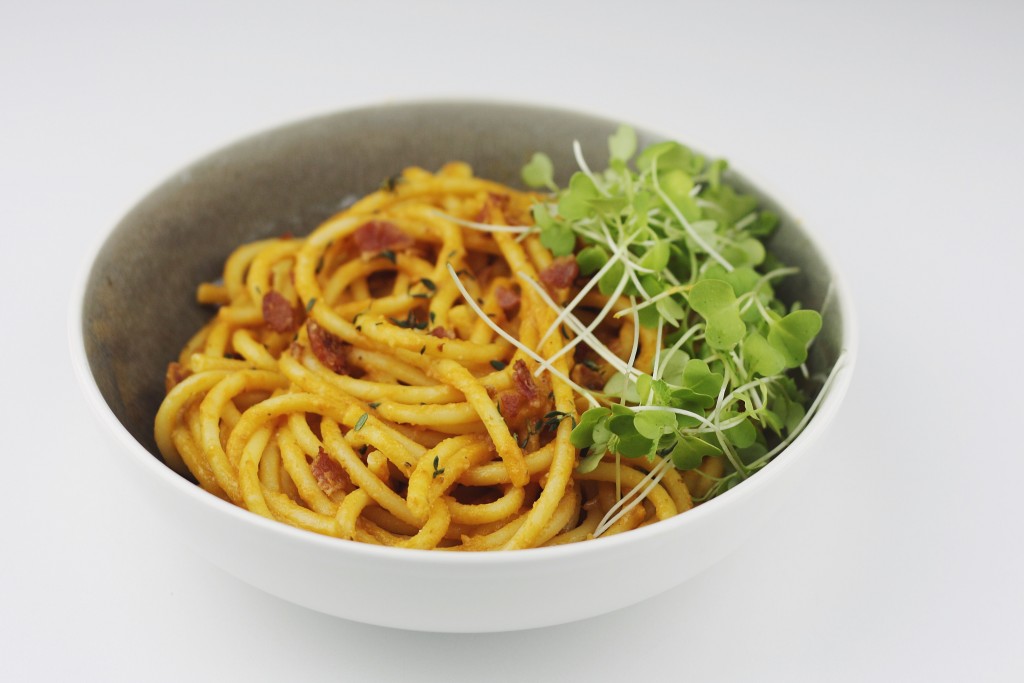 Make sure you taste the sauce and season it to your liking as you're cooking.  I like to add a little bit of salt here and there throughout the cooking process. As the sauce cooks, the flavors change and meld together.
Needless to say, I will definitely be making this pasta again.
Creamy Pumpkin Bucatini with Bacon
Serves 4-6
Ingredients
5 slices of bacon
2 medium shallots, finely chopped
2-3 cloves of garlic, thinly sliced
1 tsp thyme leaves
6-8 sage leaves
1 1/2 cup canned pumpkin purée
3/4 cup canned tomato, crushed
3/4 cup chicken stock
3/4 cup pasta water
1/4 cup parmesan, grated
1/2 cream (or half and half)
pinch of ground cinnamon
pinch of ground nutmeg
Salt and pepper to taste
2 tbsp olive oil
500 grams Bucatini
Micro greens for garnish (optional)
Method
Start by bringing a large pot of heavily salted water to boil.  Don't be shy with the salt.  Cook pasta about 2 minutes less than package directions so it's very al dente.  It will continue to cook once it's in the sauce.  Make sure to save at least 1 cup of the pasta water once the pasta has been cooking for a while.
While the pasta water is heating, get a large pan going on medium heat and fry the bacon until it's crisp.  Remove bacon to paper towel.  Add the onions along with the sage and cook until the onions are translucent stirring often, about 5-7 minutes.  When the onions are translucent, add in the garlic and thyme and allow them to cook for about a minute more, stirring so the garlic doesn't burn.
Add the pumpkin  to the pan as well as a small pinch of cinnamon and nutmeg and allow it to cook in the oil for a few minutes while stirring.  Add in the tomato and chicken stock and allow it to reduce slightly.  Now it's time to add the Pasta.  If you were able to time it right, you can transfer the pasta directly from the cooking water into the sauce but if you already strained the pasta that's fine too. Crumble most the bacon on top and then add the reserved cooking water and cream to the pan along with the parmesan and toss everything together really well.  I like to get in there with a pair of tongs and really mix everything up.  If the sauce is too thick at any point just add a bit more pasta water or stock.
Transfer the pasta to plates or bowls and top with remaining bacon and some more fresh thyme if desired.  I also topped my pasta with some micro greens for a bit of additional color.