Pumpkin Rolls with Apple-Cinnamon Filling
Firstly, I want to apologize for not posting any new recipes in a while.  I've been super busy but am going to try to continue posting on a more regular basis.
Now that that's out of the way, lets talk about these cinnamon rolls.  There not you're average cinnamon rolls.  They have pumpkin in the dough, and apples in the filling.  I'll be honest, I've never really been a fan of pumpkin, but I figured I must be missing something since every recipe this time of the year seems to have pumpkin in it.
That being said, I wanted to try out a pumpkin recipe.  I also wanted to eat cinnamon rolls. So that's how this happened.   I think this was a good place for me to try it out.  The rolls definitely had a pumpkin flavor, but it was subtle and not overpowering at all.  It also seemed to blend perfectly with the apple cinnamon filling.
These rolls would be perfect on any fall weekend, but I think would be especially good for a thanksgiving brunch.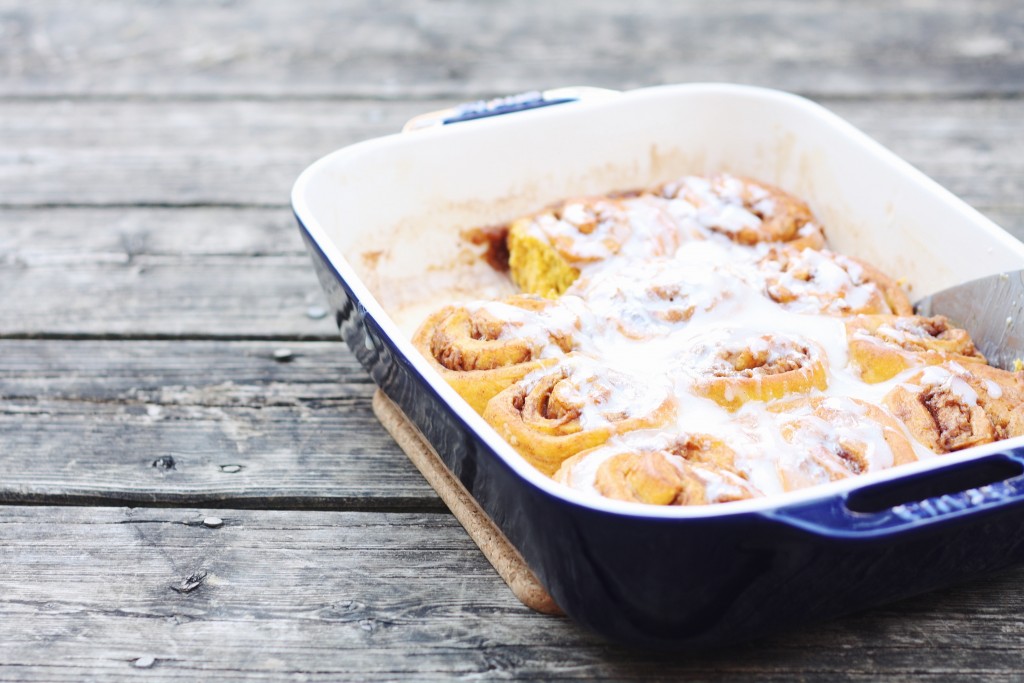 Pumpkin Rolls with Apple-Cinnamon Filling
Ingredients
Dough
3 1/2 cups all purpose flour, plus extra for dusting
2/3 cup pure pumpkin purée (I used canned, but homemade would work great if you have)
1/4 cup butter, unsalted
1/2 cup whole milk
1 large egg
one 8 gram package of active dry yeast
1/4 cup granulated sugar
1/4 cup brown sugar
1 teaspoon salt
1 teaspoon ground cinnamon
1/4 teaspoon ground nutmeg
1/4 teaspoon ground cinnamon
Oil for coating bowl while rising
Filling
3 tablespoons butter
2 granny smith apples, peeled and grated
1 cup brown sugar
1 tablespoon ground cinnamon
Frosting
4 oz of softened cream cheese
2 cups powdered sugar
2 tablespoons whole milk
Splash of Vanilla
Method
To make the dough, start by gently heating milk in a small saucepan (about 110°F) you want it to be warm, not hot. Turn off the heat and add in the yeast giving it a stir to dissolve.  Allow 5-10 minutes for the yeast to activate.  The milk should look foamy. If it's not, the yeast may have gone bad. While the yeast is activating, melt the butter (1/4 cup) and allow it to cool slightly.
In the bowl of a stand mixer, combine the flour, sugar, salt, and spices.  Give it a quick stir to combine before adding the melted butter, egg, pumpkin and the milk/yeast mixture.  With the dough hook attached, mix on low for about 5 minutes stopping to scrape down the edges if necessary.
Add mixture to a large boil greased with oil and cover with plastic wrap.  Allow it to rest in warm place until doubled in size, this should take about an hour to an hour and a half.
When the dough is almost ready, prepare the filling. Start by peeking and grating the apples into a paper towel lined bowl.  Give the apples a bit of a squeeze in the paper towel to get rid of excess moisture. Combine the apples with brown sugar and cinnamon and stir to combine.  Melt the butter and set it aside for now.
Dump the dough onto a floured surface and dust the top with a sprinkle of more flour.  Roll out the dough into a large rectangle (I try to aim for 16″x12″ but it doesn't need to be exact).  Brush on the melted butter in order to fully coat the dough and then top with the apple cinnamon mixture trying to spread it as evenly as possible.  From the long end, roll the dough into a tight cylinder and slice into individual buns (about 1 1/2″) Don't worry if you lose a bit of filling, this step tends to be a little bit messy.  I got 12 large buns out of this, cutting into about 1 1/2 inch pieces give or take.  You can go smaller depending on how many rolls you want to get.
In a parchment paper lined baking pan (9″x11″), evenly place the rolls leaving a bit of space between them (don't worry, they will continue to rise and expand while cooking so that there are no gaps).  Cover the pan with parchment and allow to rise for another 30 minutes before baking.
Preheat the oven to 350°F and bake for about 35 minutes or until golden brown and puffed up.  Keep an eye on them because the time will vary depending on your oven and the size of your rolls.
Prepare the frosting while the buns are baking by beating the cream cheese in a stand mixer with the paddle attachment.  Once it is fluffy, add in the powdered sugar and continue to beat on low while slowly adding the milk along with a splash of vanilla.  You can adjust the consistency by adding more milk to thin it out or more sugar to thicken it.
When the buns are ready you can choose to glaze them all right in the pan, or serve the icing separately.