Shredded Chicken Tacos
Firstly, I want to wish everybody a Happy New Year.  It's hard to believe that it is 2017 and that this is the third year that I have been creating and sharing recipes with all of you!  I just got back from a trip to Mexico so I thought tacos would be appropriate for the first recipe of the year.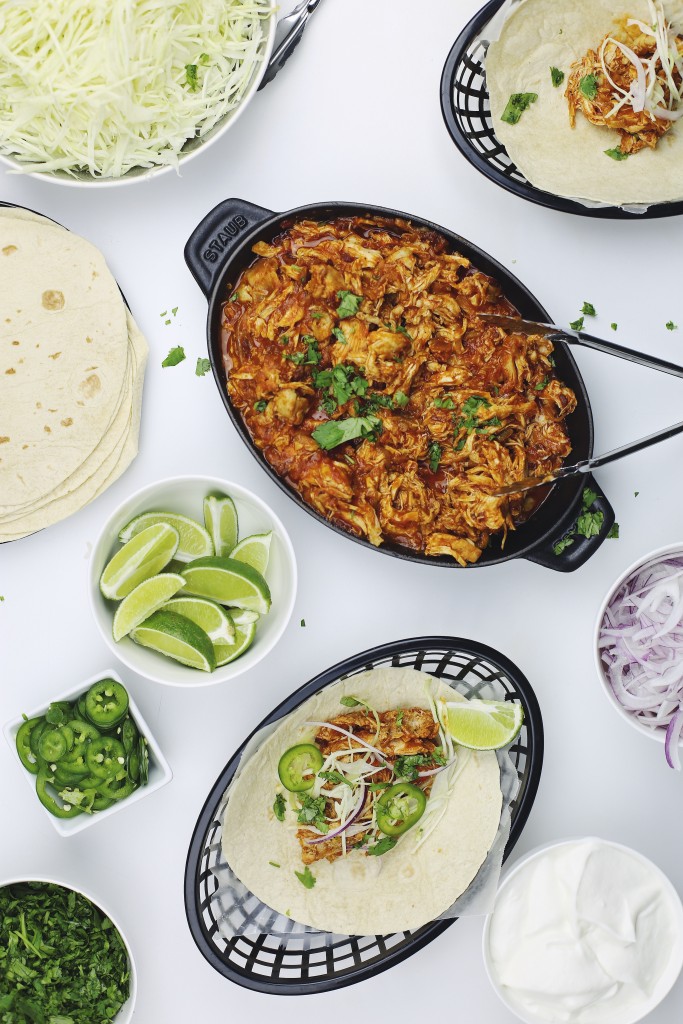 There are literally infinite ways to make tacos and almost anything can be used as the filling.  From classics like fish to more unique ideas like grilled avocado or Sriracha fried chicken, I think that anything tastes better when eaten in a tortilla.  As much as I like trying new unique tacos, I think that the simpler is better and it doesn't get much simpler than shredded chicken.
Simply shredding up some grilled chicken and topping it with a bit of fresh salsa would make a great taco, but creating a deep and flavorful sauce that the chicken is cooked in takes it to the next level.  The amount of flavor you can build in a relatively short period of time for this sauce makes it worth it any day.
Since the base of these tacos is already wet, I tend to keep the toppings to a minimum as opposed to if I was using flank steak or beer battered fish.  These tacos are totally delicious and satisfying on their own but I like to put out a few toppings to give people option when building their tacos. Thinly sliced jalapeños, shaved red onion, shredded cabbage, and cilantro leaves all make great toppings to add a refreshing bite to the tacos and they help create some texture.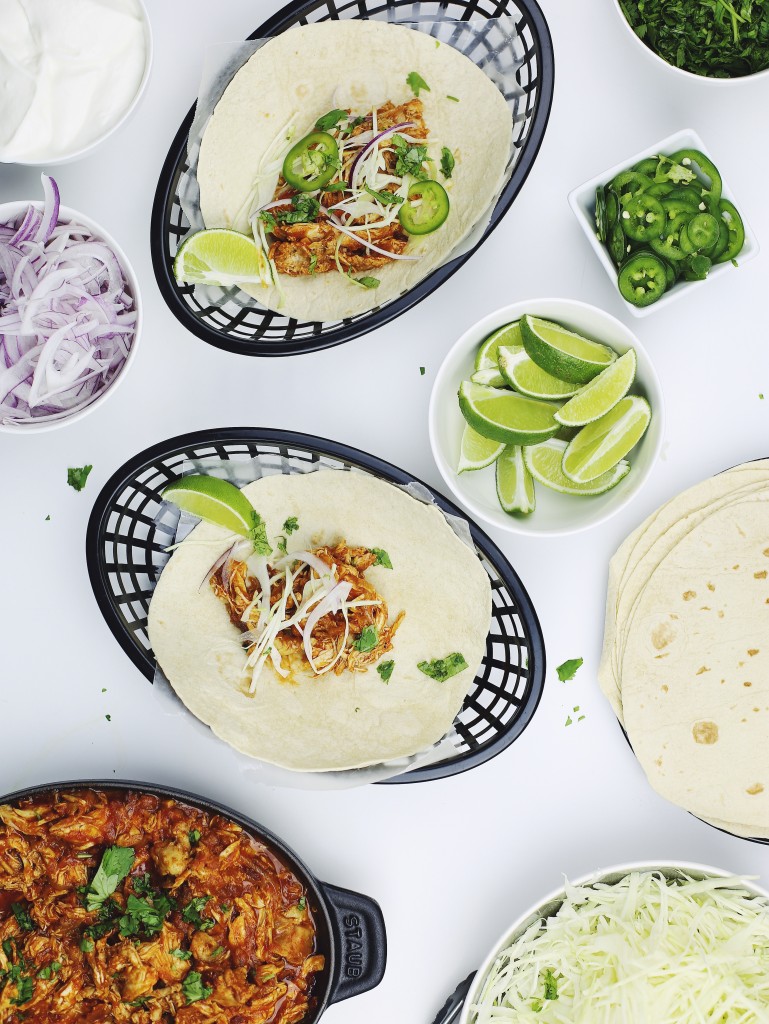 When it comes to tortillas, you can use either flour or corn, whichever you prefer.  I like both but I much prefer corn tortillas when they are charred.  If you have a gas stove, throw them right on the burner for a perfect char.  If I'm not charring the tortillas I usually stick with flour, which is what I did with these.
What I love about these tacos, and tacos in general is that they are suitable for so many different occasions.  They make for a relatively quick weeknight meal that everyone will enjoy but they also work perfect for dinner parties or can be set up as a taco bar for a larger party if you increase the recipe.
I wish that I had gotten a few more pictures of these tacos but as you will find out, they are incredibly delicious and not easy to resist.
Shredded Chicken Tacos
Serves 6-8 people
Ingredients
4 bone in skin on chicken breasts (skinless and/or boneless could be used as well)
1 can (16 oz) crushed tomatoes
3-4 chilis in adobo sauce (from a can), finely chopped
1/2 spanish onion, thinly sliced
2-3 cloves of garlic, minced
1 bay leaf, dried
Flour tortillas
3-4 tablespoons olive oil
Salt and pepper
   Toppings
Sliced jalapeños
Shredded cabbage dressed in lime juice
Shaved red onion
chopped cilantro
sour cream
lime wedges
Method
Season all of the chicken with salt and pepper and preheat olive oil in heavy bottomed pan over medium-high heat. Sear the chicken skin side down until browned, about 2-3 minutes (or until golden brown) and then flip and brown the other side.  Remove chicken to plate and set aside.
Lower heat to medium.  In the remaining oil and rendered chicken fat, add Spanish onion and a big pinch of salt.  Cook until softened, 5-7 minutes stirring often.  Add in the chopped adobo peppers along with garlic and bay leaf and continue to cook for another 2-3 minutes, stirring often.  Once the onion and adobo mixture is cooked down, place the chicken back into the pan, skin side up, along with any juices from the plate.  Pour in the tomato sauce around the chicken and try to stir everything together around the chicken. Lower heat and bring the sauce to a light simmer and cover the pan.  Cook for about 20 minutes or until the chicken reaches 165°F.
After 20 minutes, carefully remove the chicken to a board and shred the meat off the bone using two forks.  Continue to shred until desired consistency is reached.  Ensure that there are no bones in the shredded chicken.  Return the shredded chicken to the sauce and stir everything together.  Season it to taste with salt and pepper.
To serve, either transfer the chicken mixture to a separate dish or serve it right out of the pan.  Serve the chicken along with your desired toppings and tortillas and allow everyone to build their own tacos.