Homemade Caramel Apples with Skor and Peanuts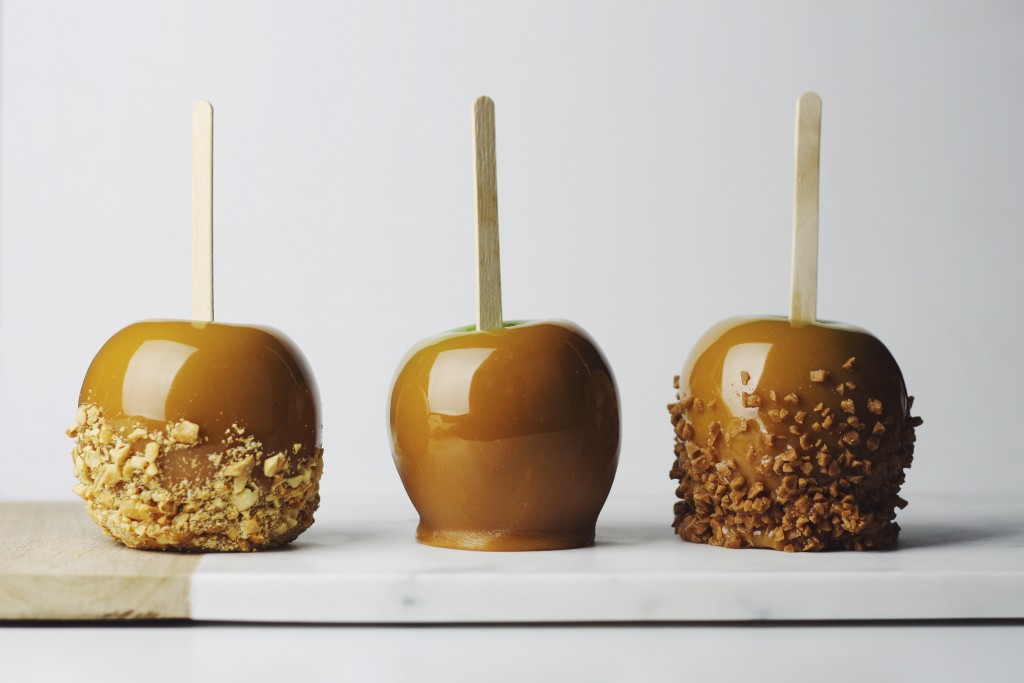 Hard to believe that Halloween is already here. Not really complaining though.  Fall is a great time of the year and there are so many great fall recipes that I'd like to make.  These caramel apples just happen to be one of them.
Making caramel apples at home is pretty simple but for some reason I haven't always gotten the best results.  The main issue that I had, and I think it's an issue that others struggle with as well is getting the caramel to stick to the apples.  What would usually happen to me was I would make the apples, stick them in the fridge to set, only to find that when I came back to check on them, most of the caramel had dripped down to the bottom of the apple.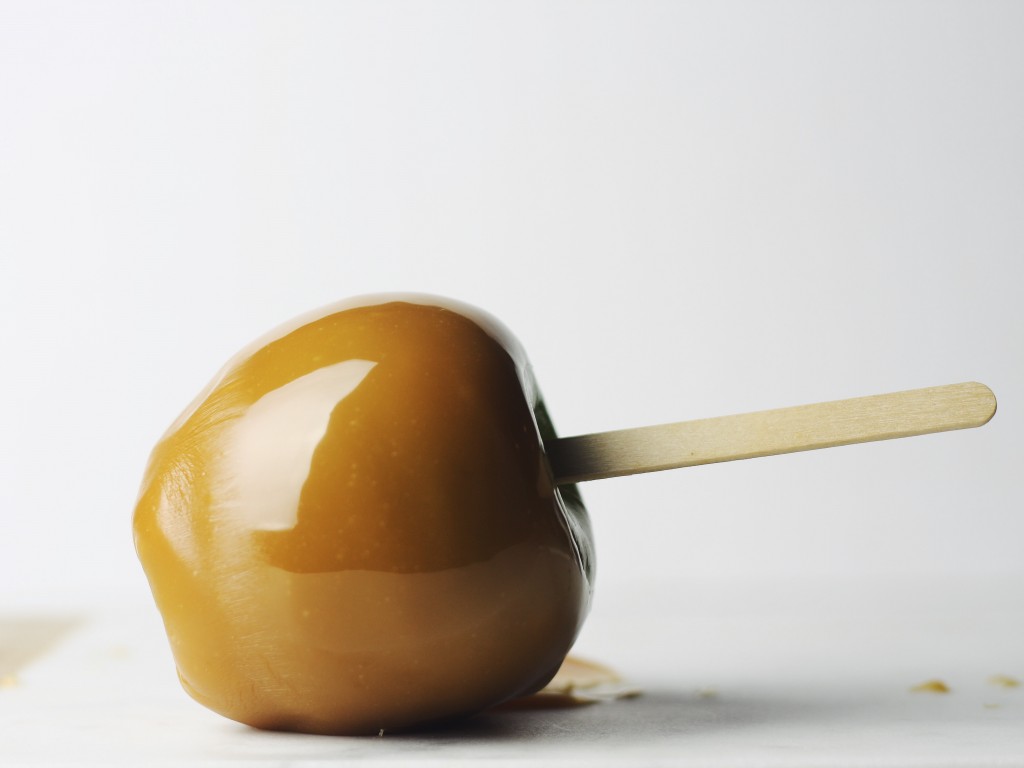 After a few quick searches on google I finally have found the solution.  Apples have a waxy coating around them.  I'm not going to get into any details about it, but the one relevant thing about the wax is that it stops the caramel from properly adhering to the apple.  I figured that washing the apples under cold running water was enough to get rid of the coating but apparently not.  The real trick is to dip the apples into boiling water with a splash of vinegar added to it and then shock them in cold water and rinse them off.  This technique will get rid of the wax and ensure the caramel sticks.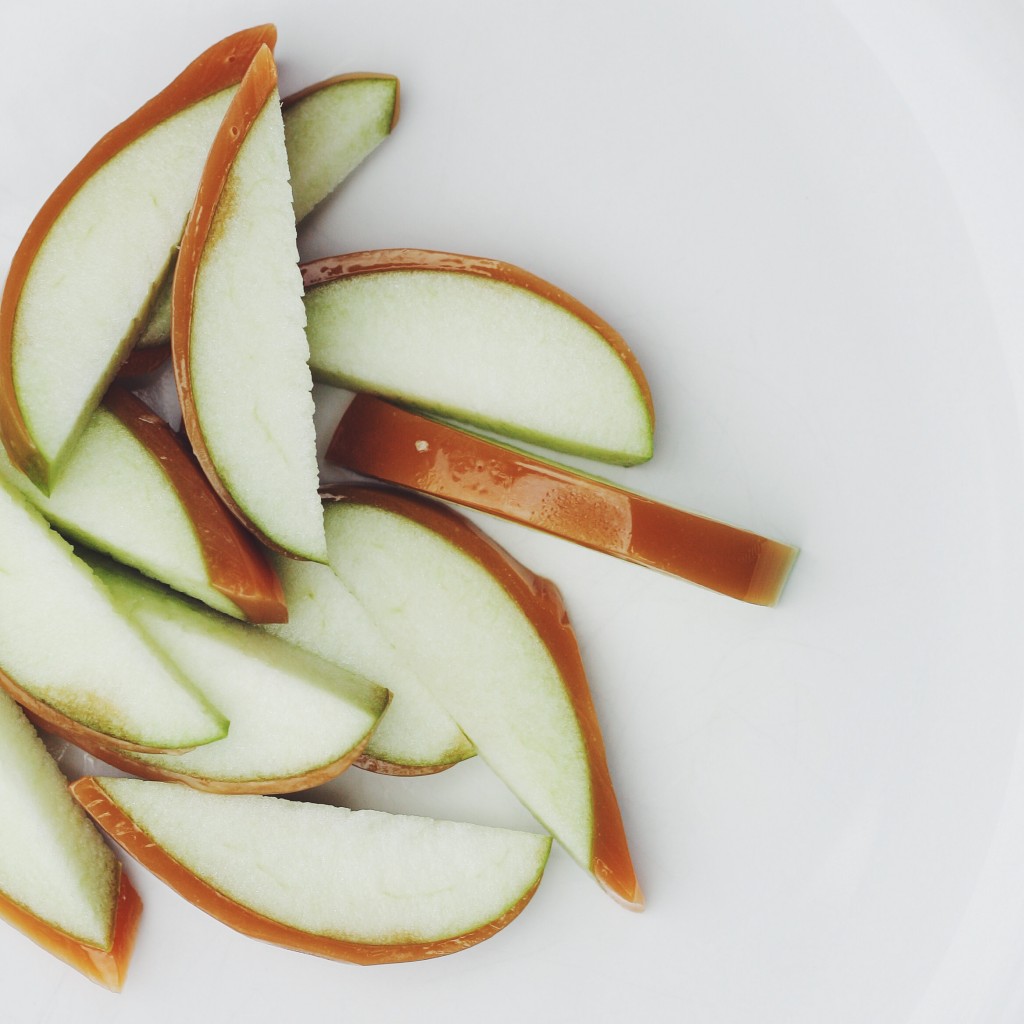 Since I learned about this trick, my apples have been coming out perfect.  Another tip is to make sure you put the apples in the fridge as soon as possible after dipping them.  This will help the caramel set and reduce any big pools of caramel at the bottom of the apple.  I actually kept a parchment paper lined baking sheet in the fridge while I was making my apples so it would be nice and cold by the time they were ready.
Other than that, there really isn't much to it. I don't bother making my own caramel for these, I think the pre packaged caramels work perfect.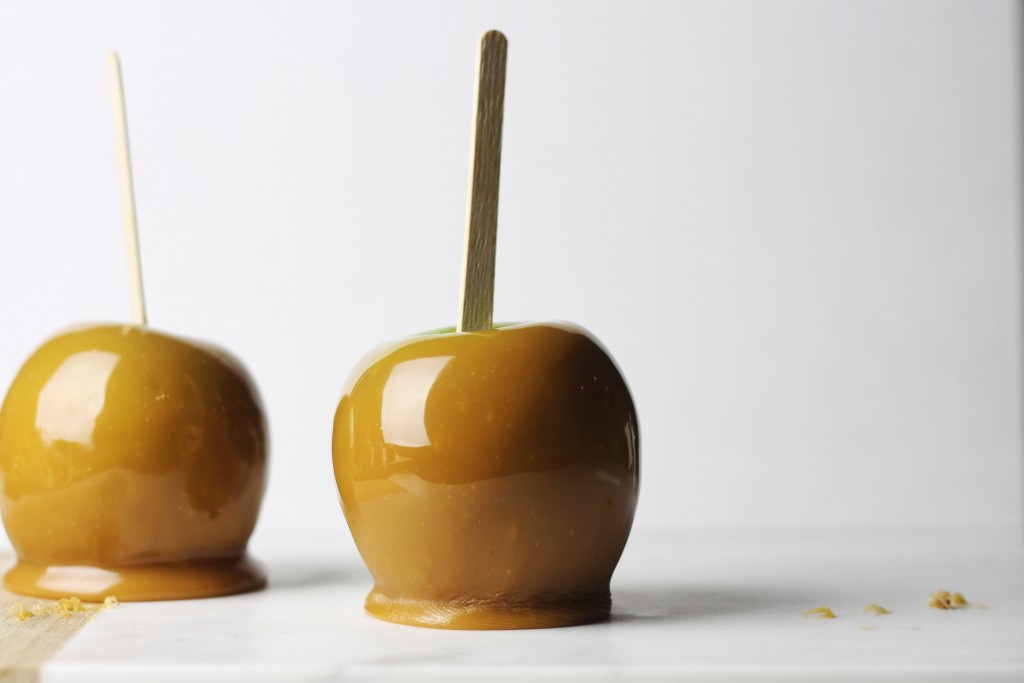 As far as sticks go, there are several options.  You can buy wooden craft sticks at any crafts store. Chopsticks also work pretty well if you have those lying around.  But I find that popsicle sticks actually work the best.  The flat surface seems to help keep a secure fit while dipping.
You can stick with just caramel for a classic look, but it's also fun to dress the apples up with different toppings.  I kept it simple and went with skor bits and chopped peanuts, but the possibilities are pretty endless.  You could add chopped pretzels, m&m's chocolate chips, drizzled chocolate; you get the point.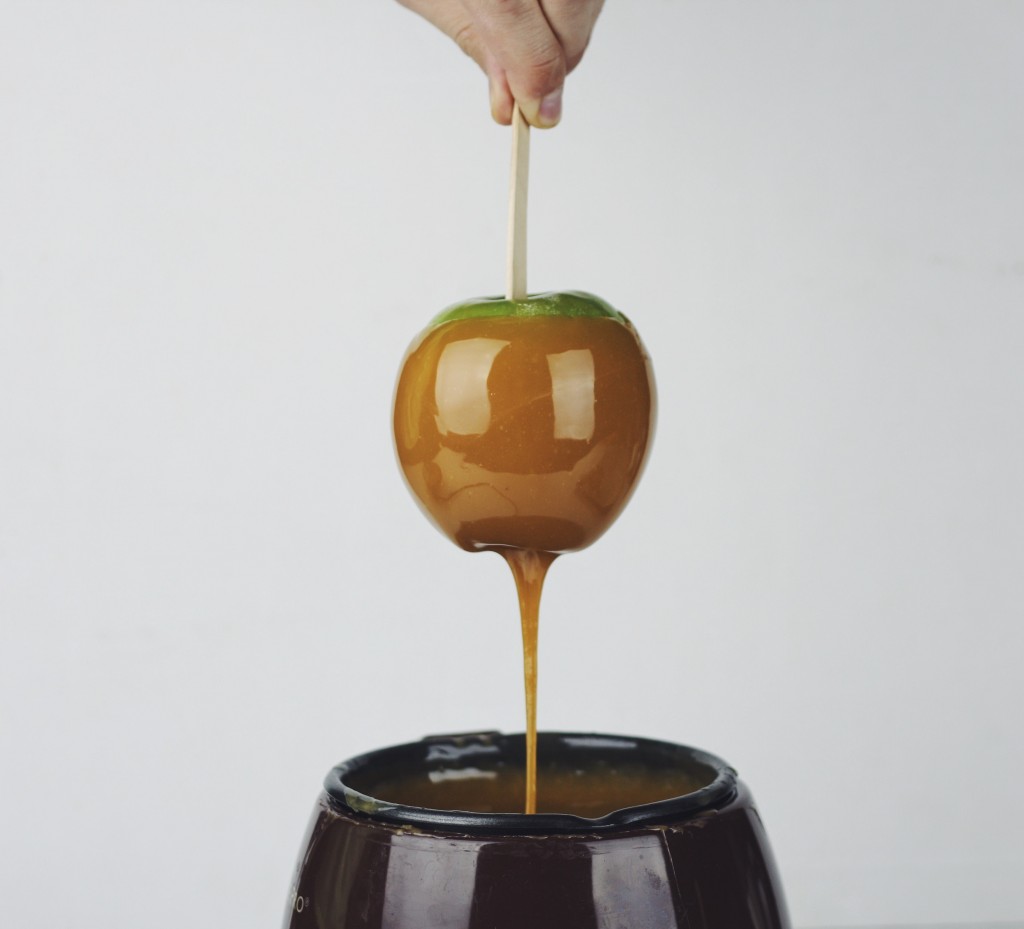 Ingredients
6 apples (granny smith)
1 package of caramel squares (14 oz) (you might need a little more depending on size of apples so a bit extra couldn't hurt)
2 tablespoons Cream (milk will work too)
splash of vanilla
pinch of salt
6 popsicle sticks
Optional Toppings (skor bits, chopped peanuts)
Method
Melt the caramels along with the cream, vanilla, and salt in the microwave on 50% power (stirring every minute) or over a double boiler.  Remove the stems from the apples and insert the popsicle sticks. If you have a thermometer, you'll want the caramel to be between 180° and 200°F while dipping.  It's not too important to worry about though.
One by one dip the apples into the caramel.  I like to leave a bit of green showing but you can go right up to the stick if you prefer. You may need to tilt the bowl/pot and rotate the apple to get full coverage.  lift up the apple and hold it for at least 30 seconds so the excess caramel drips off.  Flip it upside down for another 15-30 seconds while the caramel evenly spreads around the apple and then place on a parchment paper lined baking sheet.
You'll find that you may need to hold the apple for a bit longer or in different orientations in order to keep an even layer of caramel all around the apple.  It takes a bit of practice but you'll get the hang of it after a few tries.