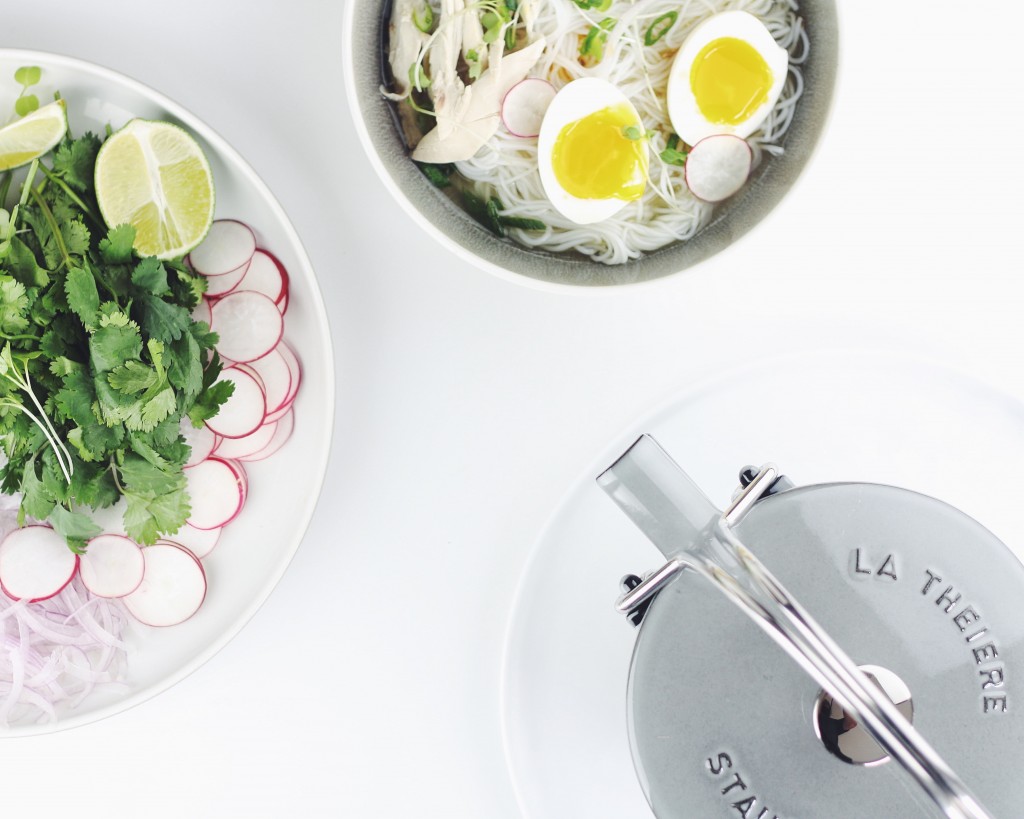 A good bowl of Pho is one of my favourite things to get for take-out. It's one of those take-out items that is just as good at home as it is in the restaurant.  Since the broth is packed separate from the noodles and all the toppings, everything stays nice and fresh.
Now, I know this recipe is far from an authentic Pho Ga.  I'm definitely not claiming that it is traditional or anything similar to what you might get in a Vietnamese restaurant. But this is my own version and it's inspired by my favourite take out spot.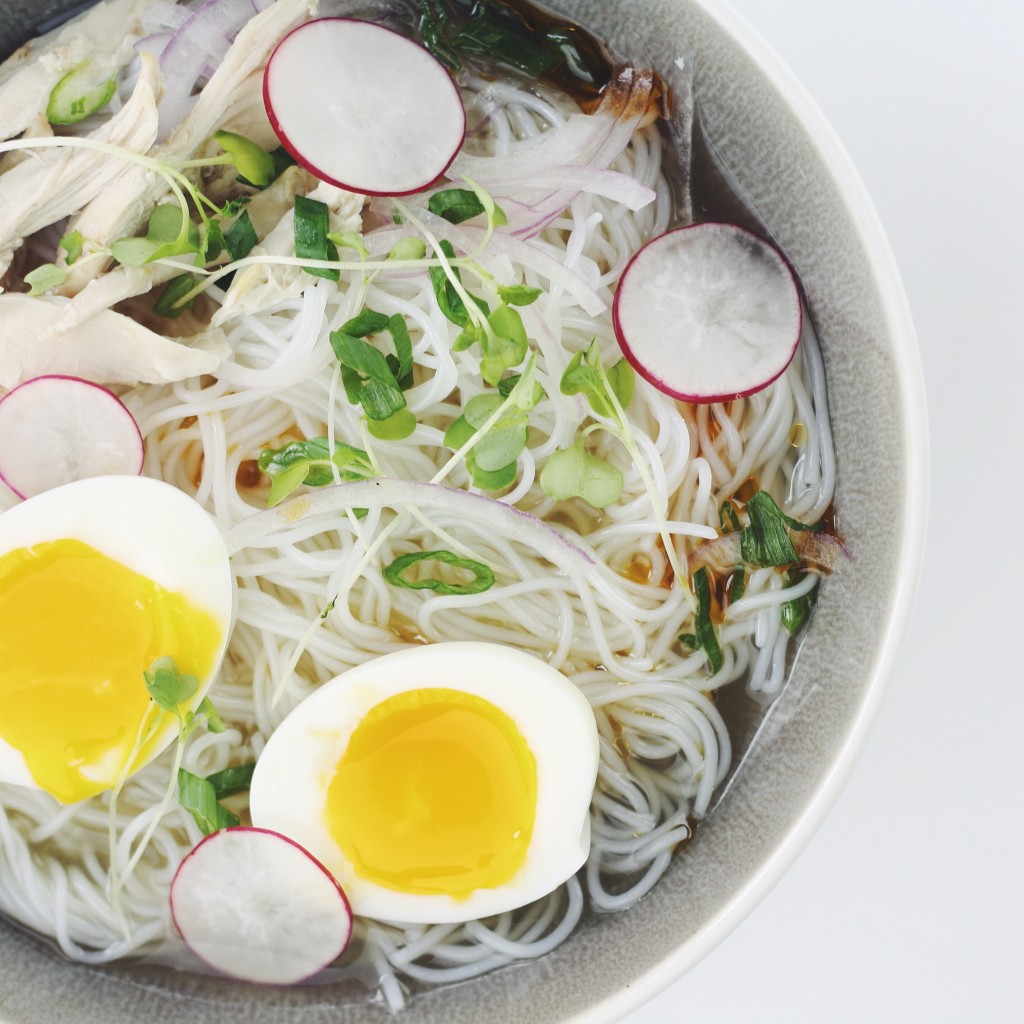 There are a few things that make this recipe so delicious.  The star of the show is really the broth.  Without a good broth, you're not going to end up with an enjoyable soup.  The second is all the toppings.  I love all the fresh and bright toppings, they really make the soup.  I like to prep a big plate of all the toppings and serve it alongside the soup so you can keep adding more as you go.
The broth for this was adapted from a friend of mine's blog.  You can check out the original right here, on Christine's blog, What Do You Crave.  The only reason I even made changes were out of convenience and because of what I happened to have on hand.  I didn't have leek so I used green onion instead.  I also had some cloves so I through those in the broth as well.  The only other change I made was grilling the vegetables on the BBQ before adding them to the pot whereas Christine baked them in the oven.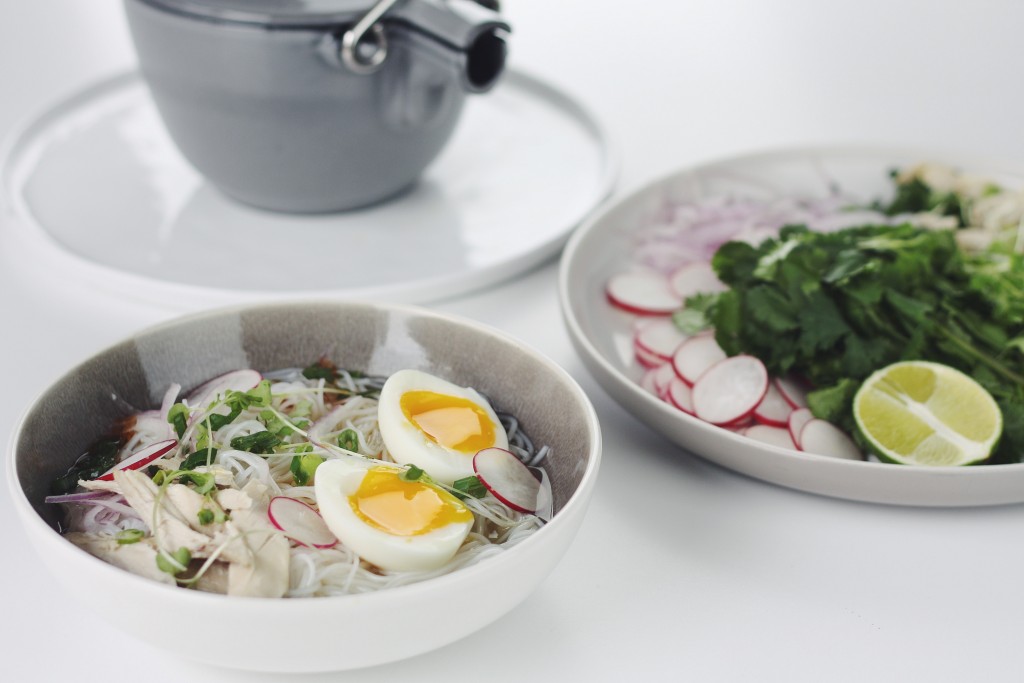 I was really impressed with how flavorful the broth came to be in such a relatively short time.  It may seem like kind of pain to make your own broth from scratch but it really is pretty effortless, and is so much better than any result you'll get using a boxed chicken stock.  I made the broth a day in advance.  This really broke up the process for me and made it feel even simpler.  It's also easier to skim off excess fat after the broth has chilled in the fridge for a bit.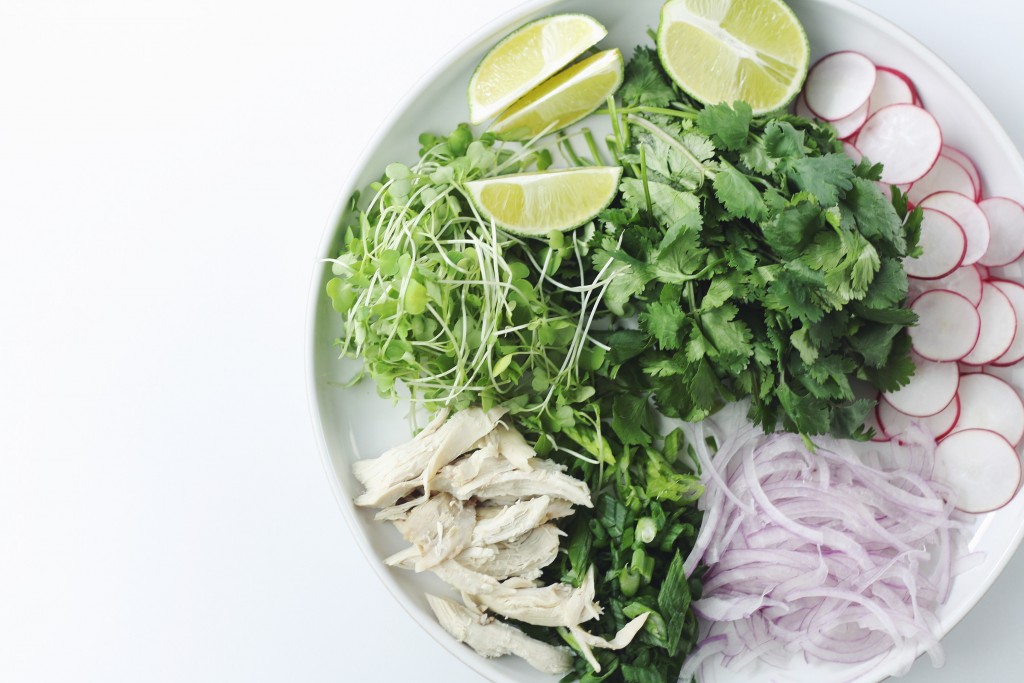 Another cool thing I did was serve the broth out of my new tea kettle.  It was a fun way to serve everything at the table. To serve everything up, make a big plate of all your toppings.  You don't have to use exactly the same things I used.  You can add in whatever you want.   Once you're toppings are all set up, add your noodles to the bowl and then pour in the broth.  Top the soup to your liking and you're good to go.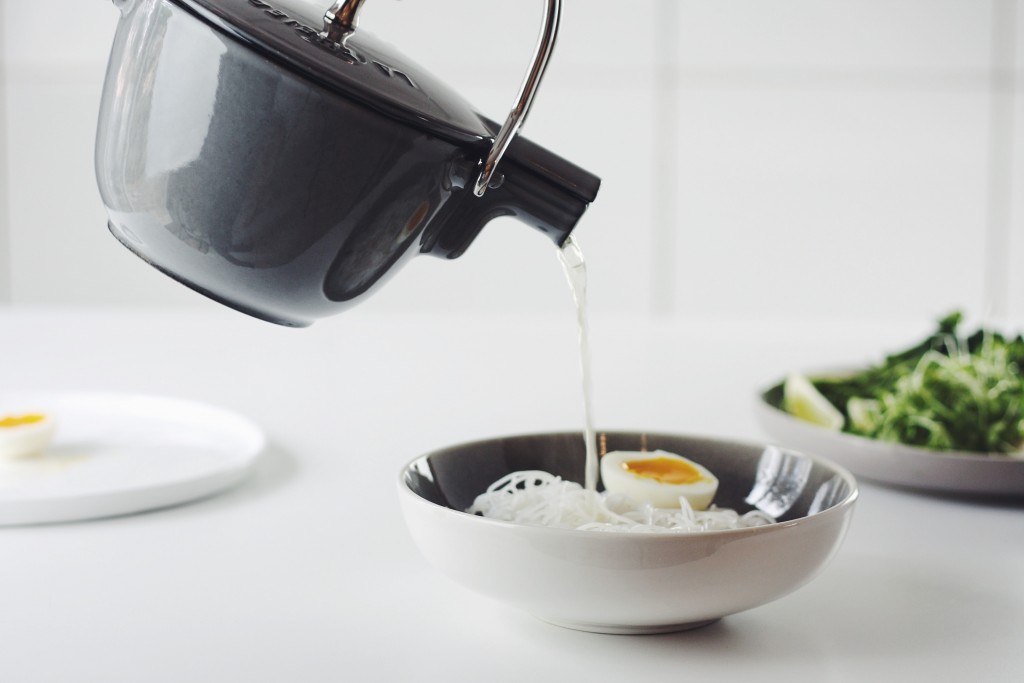 Spicy Miso Pho Ga
Makes 4 bowls
Ingredients
For the broth
1 whole chicken, 4-5 lbs
1 large yellow onion
small bunch of green onion
2 stalks lemongrass
1 dried thai chili (can sub in a big pinch of chili flakes)
1 thumb sized piece of ginger, peeled
2 star anise pods
4 whole cloves
1 tbsp sea salt
2 tbsp sugar
2 tbsp miso paste
16 oz rice noodles
Optional Toppings 
Thinly sliced red onion
Cilantro, torn
Radishes, thinly sliced
Green onion, thinly sliced
Wasabi micro greens
lime wedges
Shredded chicken
soft boiled egg
Method
To make the broth, char the onion, green onion, and ginger on a grill (or under broiler).  Don't worry about removing the skin from the onion, it will easily come off once its charred.  You want to let everything cook until it's softened and nicely colored.  The green onions will go quick but the yellow onion and ginger can stay on for about 15 minutes or so.  Remove from grill, and then add to a large stock pot with the chicken.  Be sure to remove any of the remaining charred skin off the onion.  Bruise the lemongrass with the side off a knife and then put that in as well .  Add the cloves, star anise, chili, sugar and salt, and then cover with with about 12 cups of cold water.
Bring it to a boil skimming off the fat as it accumulates on top.  Reduce the heat to a simmer and allow it to cook for about 45 minutes or until the chicken is fully cooked.
At this point, carefully remove the chicken and shred the meat off the bone. Set the shredded meat aside for now.
If you can, try to cut the chicken carcass into several pieces, this will help extract additional flavour for the broth.  Put all the remaining bones back into the broth for another 1-2 hours with the pot partially covered.  1 hour will be fine but you can let it go for an additional hour or so.
After 1-2 hours. Remove the chicken bones and then stir in the miso paste to dissolve.
Remove and discard all the remaining vegetables and then put the soup through a fine mesh strainer.  There will still be fat on top that needs to be skimmed off.  At this point you can either begin to prep your toppings, or chill the broth and save it for the next day.
To get ready for serving, cook noodles according package directions and then rinse under cold water.
If you are serving with soft boiled eggs, cook them for 6 and a half minutes and then peel them carefully under running water.
Get all your other toppings ready and place them together on a plate.
Build your bowls by adding noodles and then pouring over the hot broth.  Top as desired and enjoy