Fresh Homemade Tomato Gazpacho 
Gazpacho has got to be one of the absolute best quick and easy summer recipes.  It is definitely up there as one of my favorite things to eat once the weather warms up.  The key to a good gazpacho is to use fresh ingredients.  Since there is no cooking involved, it's a great opportunity to let the ingredients shine.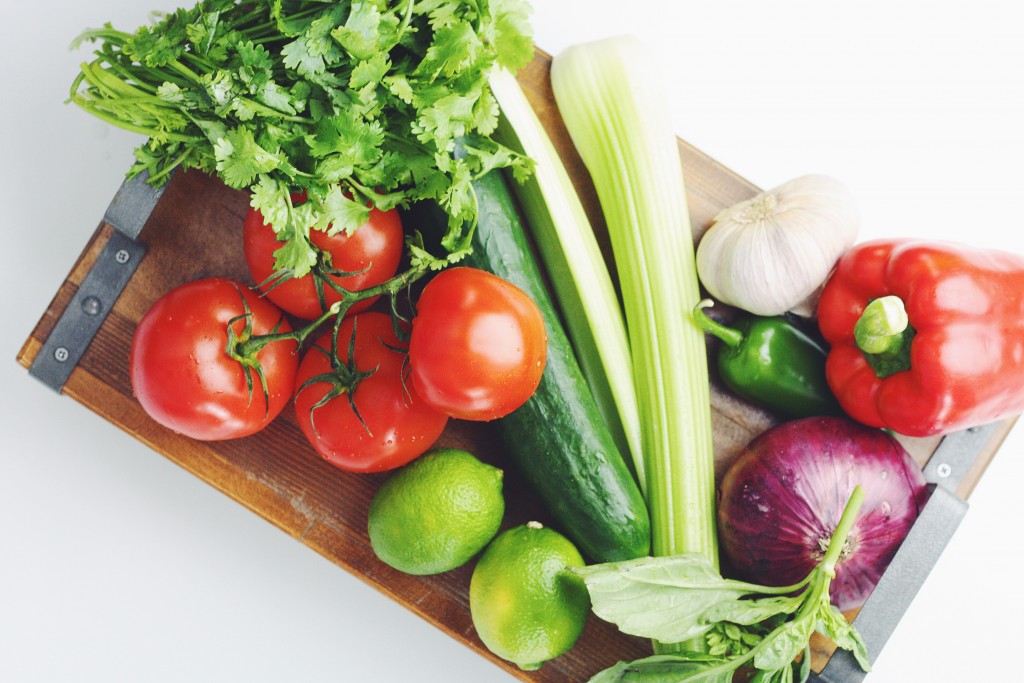 The flavors of this particular gazpacho are super bright and refreshing.  Lots of cilantro, fresh lime, red onion, and of course tomato.  I love the freshness of cilantro and lime so I'm pretty generous with it.  Part of why I like this gazpacho so much is because it kind of tastes like a drinkable Pico de Galo, which I have no problem eating by the spoonful anyway.
I need to disclose that KitchenAid was generous enough to provide me with one of their food processors for this recipe but I assure you, all opinions are my own.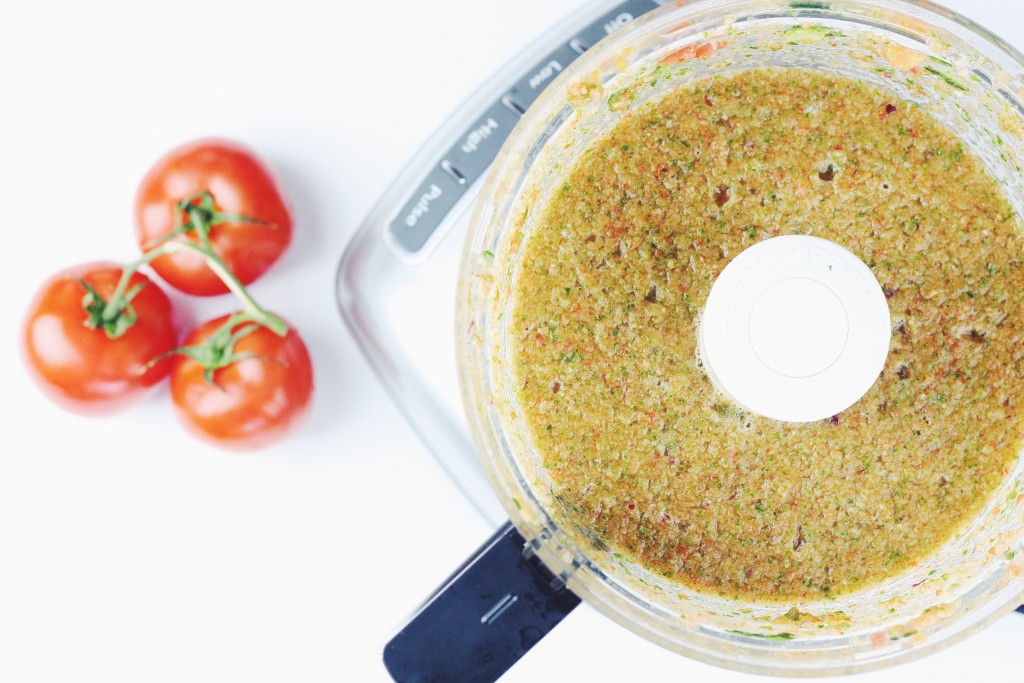 Any food processor or blender would work fine for this recipe, but I do admit, I was pleasantly surprised with the dicing feature on the food processor they sent me.  I was hesitant that it would be able to evenly dice a tomato without turning it into mush but after testing it out, I was a big believer.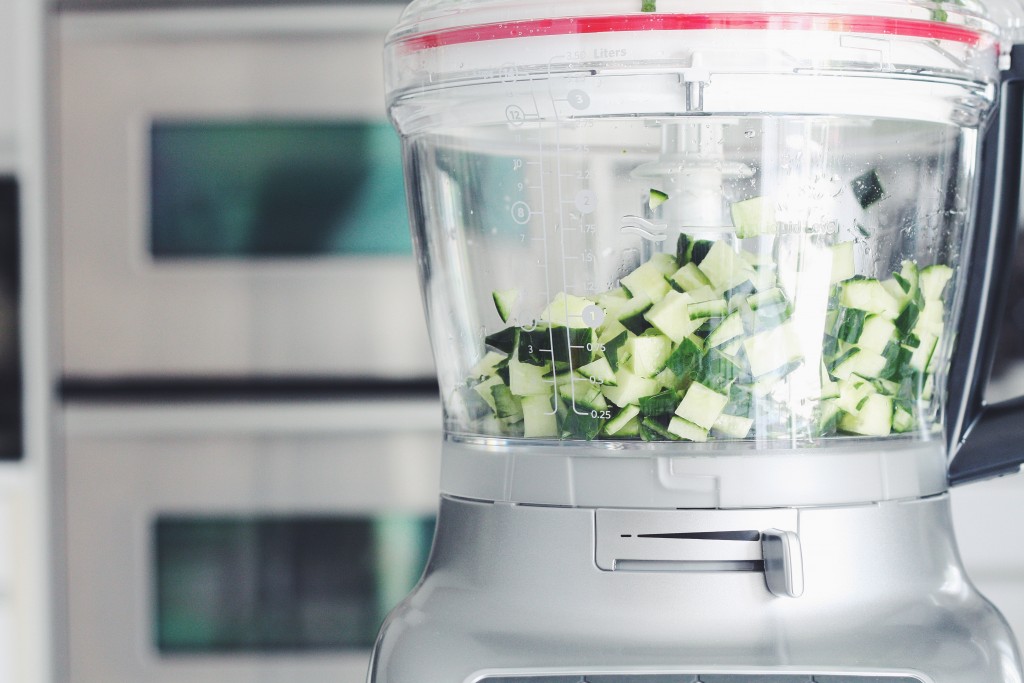 I've always found dicing large quantities of tomatoes to be a bit of a pain but those days are over.  I see large amounts of Pico in my future.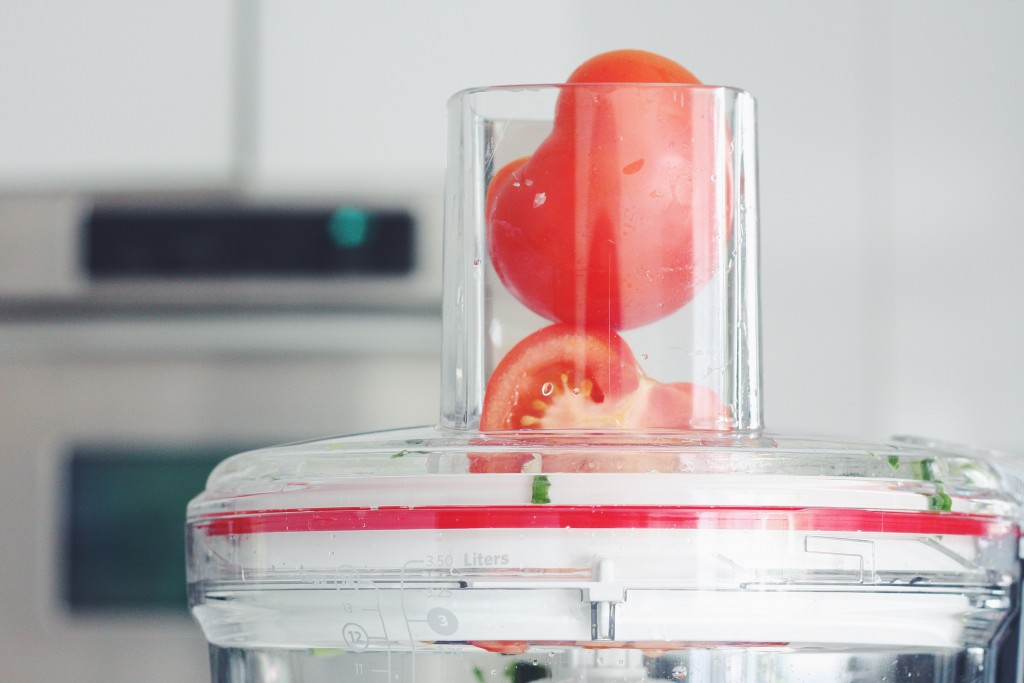 You don't really need to dice anything for this recipe but I like a bit of additional tomato and cucumber for garnish and a bit of added texture.  If you are content without it, feel free to throw all the ingredients in and process away.  It really is that easy.   At the end of the day, it's just a mixture of blended vegetables, some olive oil, and some tomato juice.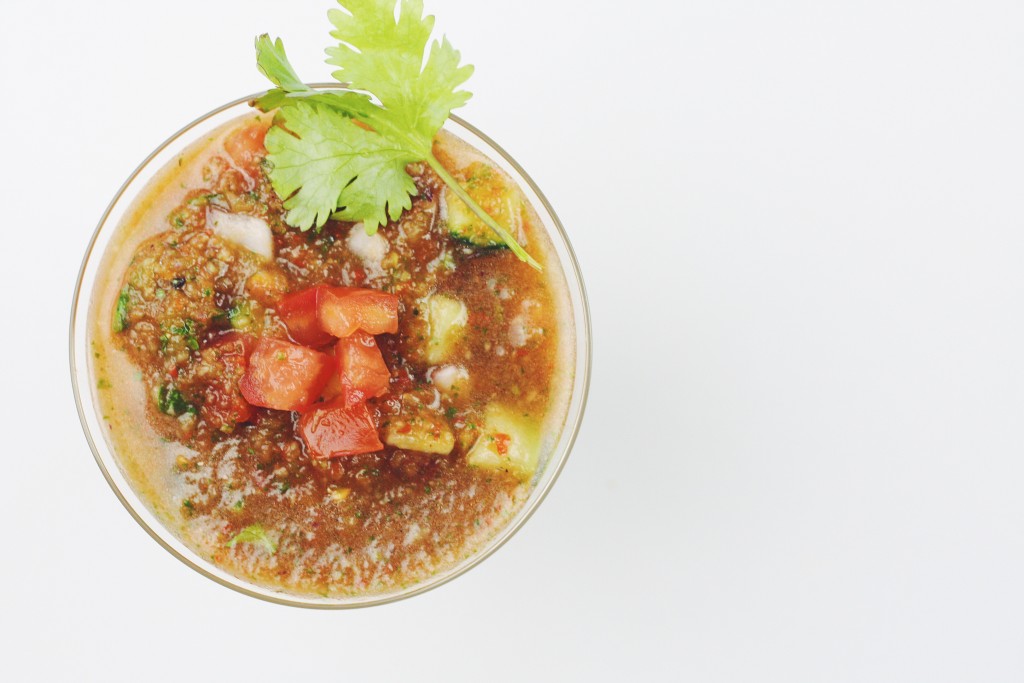 Feel free to change up the recipe to your liking.  There are so many ways you can easily change it up. You can add more tomato juice to thin it out, take out the jalapeño if you don't like any heat, or use different varieties of tomatoes.
The flavors of the gazpacho get better and better as it sits in the fridge so I recommend making this the day before you plan to serve it and keep it in the fridge until just before serving.  If you're tight on time don't sweat, you can make it day of.  But either way, make sure it is nicely chilled.
As the soup sits in the fridge, it tends to thicken up slightly, so if necessary thin it out with a little bit of tomato juice before serving.  I personally prefer it on the thicker end but that's totally up to you.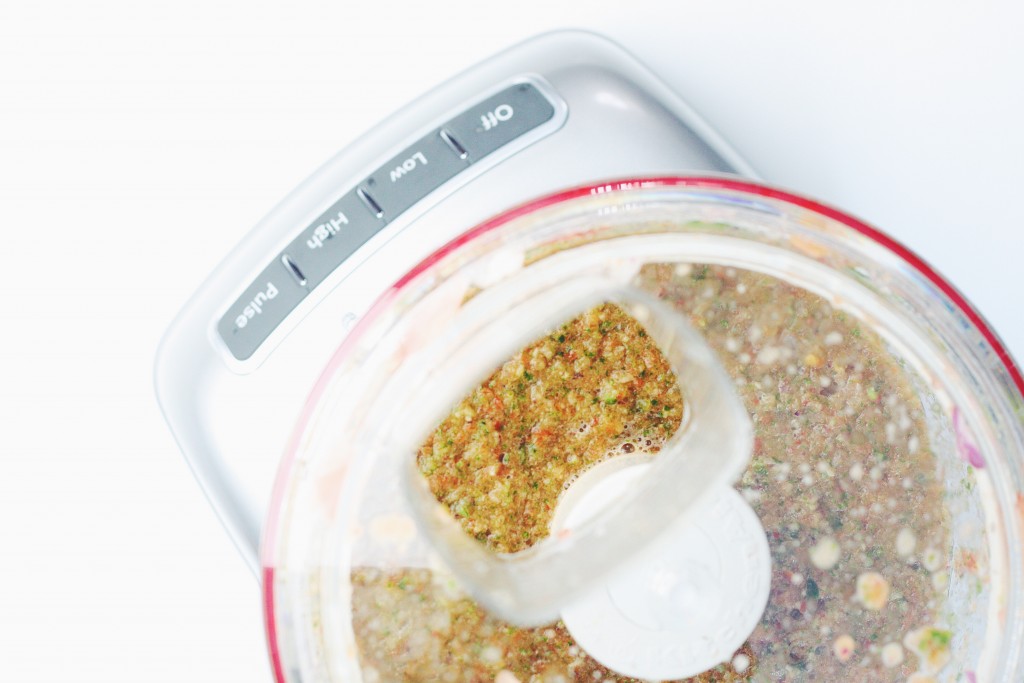 I usually make gazpacho as a snack or appetizer on a hot day but a larger bowl would definitely make for a satisfying meal.  It goes really well with some grilled shrimp and you can add croutons or serve with bread to make it a bit more filling.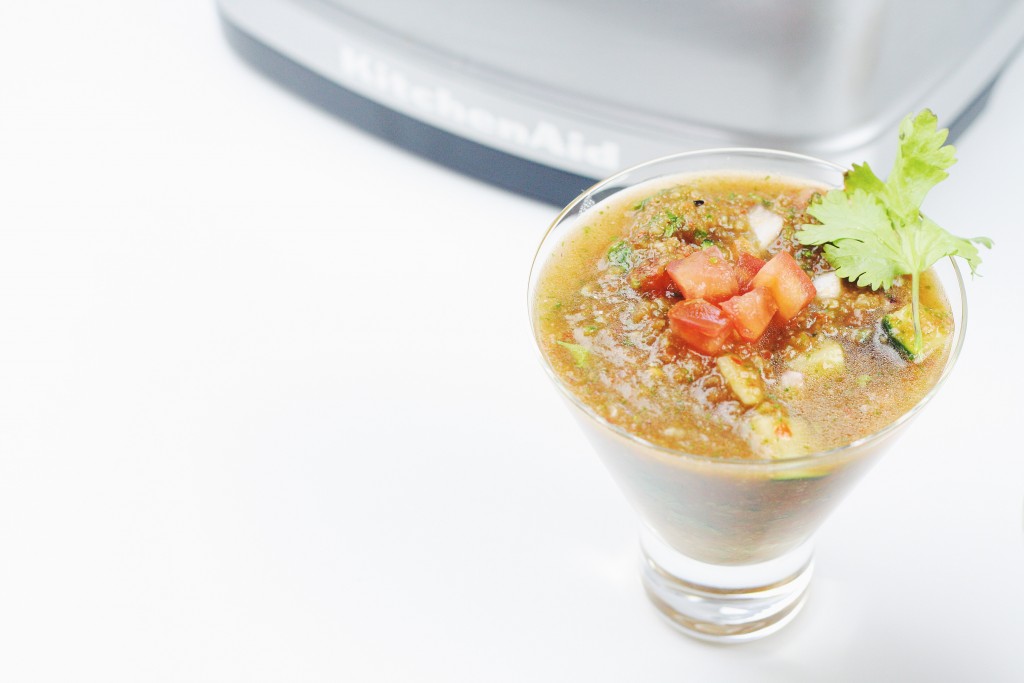 Tomato Gazpacho 
Makes about 10 servings
Ingredients
6 vine ripened tomatoes
1 1/2 English cucumbers cucumbers
1 medium red onion
1 red bell pepper
1 stalk of celery
2-3 cups tomato juice
Big handful of cilantro
5-6 Basil leaves (optional)
2 cloves of garlic
1/4 cup red wine vinegar
1/4 cup olive oil
Juice of 2 limes
1/4 teaspoon celery salt
A few dashes of Tabasco
Kosher salt
Freshly ground pepper
Method
Start by dicing 1 tomato along with 1/2 a cucumber.  Reserve this for garnishing the gazpacho at the end
In the bowl of a food processor, add the rest of the tomatoes and cucumber along with the onion, bell pepper, celery, cilantro, basil, garlic, and garlic.  You will need to roughly cut up the vegetables so they fit into the food processor.  Pulse until uniformly pureed.  Add in the tomato juice, oil, vinegar, lime juice and celery salt.  Pulse again until incorporated and smooth.
Taste the soup and season to preference with salt, pepper, and a Tabasco.
Transfer soup to fridge and chill well before serving.
Garnish each bowl with the reserved cucumber and tomato