I love to make soups like this.  They are so easy but so satisfying.  They also don't really require a "recipe"; you can throw in whatever you feel like depending on your current mood.  The soup comes together pretty quickly, you basically just need simmer the broth for a little while. I like to prep a bunch of different garnishes while the broth is cooking so that when it's done, I'm ready to eat.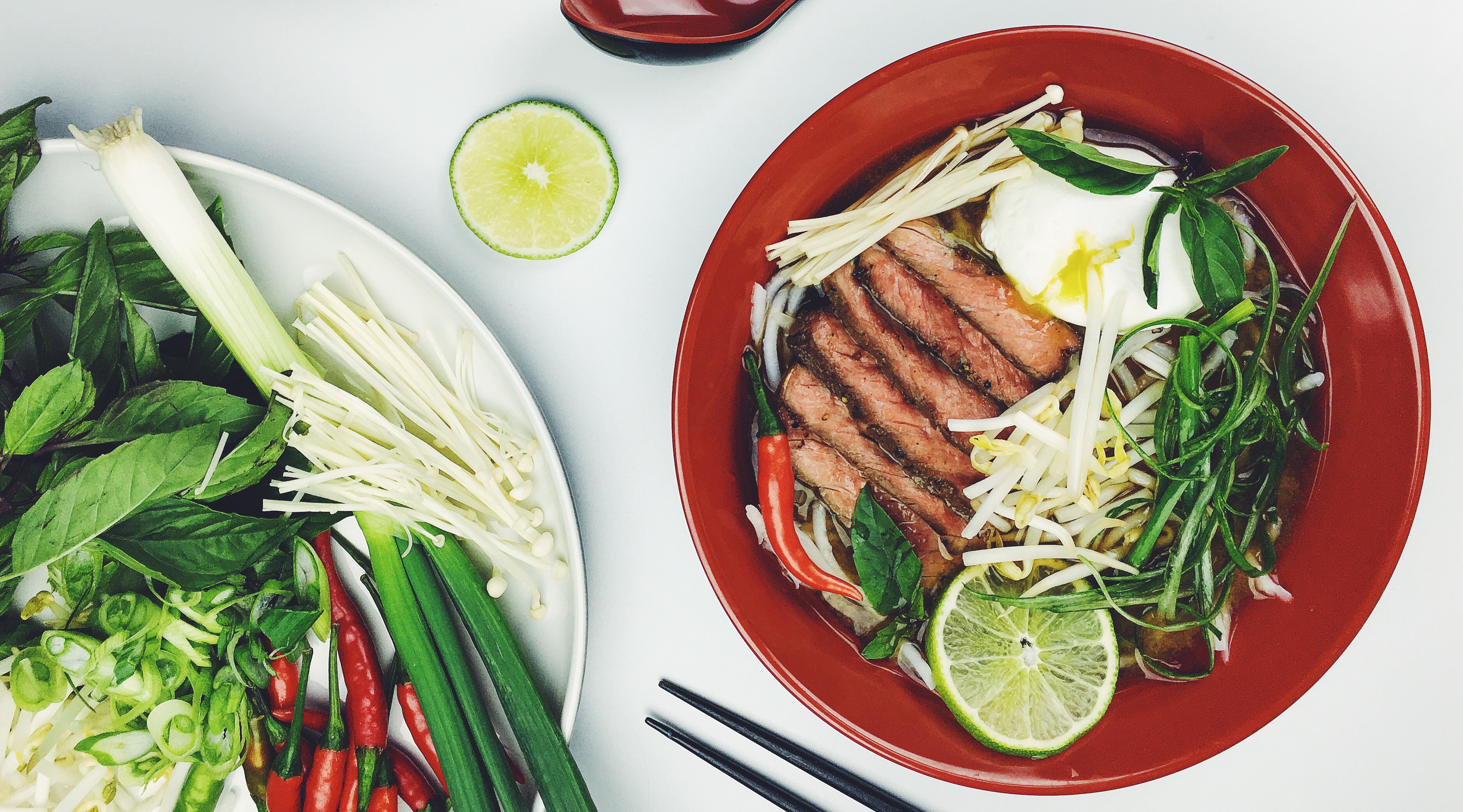 The same goes for proteins; for this soup, I used a sliced up steak and a poached egg.  But you could easily use chicken or go for tofu if you wanted to keep it vegetarian.  Use this recipe as a base and twist it up according to your liking.
Ginger-Lemongrass noodle soup
Ingredients
For the Soup
4 cups chicken broth (vegetable is a fine substitute)
2 cups water
2 Lemongrass stalks, smashed and roughly chopped
1 tsp soy sauce
1 tsp rice vinegar
1″ piece of ginger
Green onion (white part)
1 thai chili, scored
1 package of noodles
Garnishes
Green onions, sliced
bean sprouts
enoki mushrooms
thai basil, torn
lime
Method
Bring all of the soup ingredients (except the noodle) to a boil then reduce to a simmer.  Cover pot and continue to simmer for 30 minutes to an hour depending on how much time you have.  Feel free to remove the chili early to keep the heat down, or even skip it entirely.
While the broth is simmering away, prep all of the garnishes to get that out of the way.  Cook noodles according to package directions and divide between your bowls.
Get any other proteins ready while the broth is simmering also. I used a sliced up leftover steak and poached egg.  You could also put a chicken breast in the simmering broth for 20-30 minutes and then shred it and divide it between the bowls as well.
When the broth is done, put it through a strainer and then ladle it over the noodles.  Garnish soup with desired toppings and enjoy.