Avocado Toast with Chipotle Mayo & Toasted Coriander
I know what you're thinking.  Why do I need a recipe for avocado toast, it's just mashed avocado and bread, right?  Wrong. Well, kind of.  Sure,  you could just throw some avocado on a piece of white bread and call it a day and it would be pretty good.  But when you're feeling something a bit more elevated, this avocado toast recipe is perfect.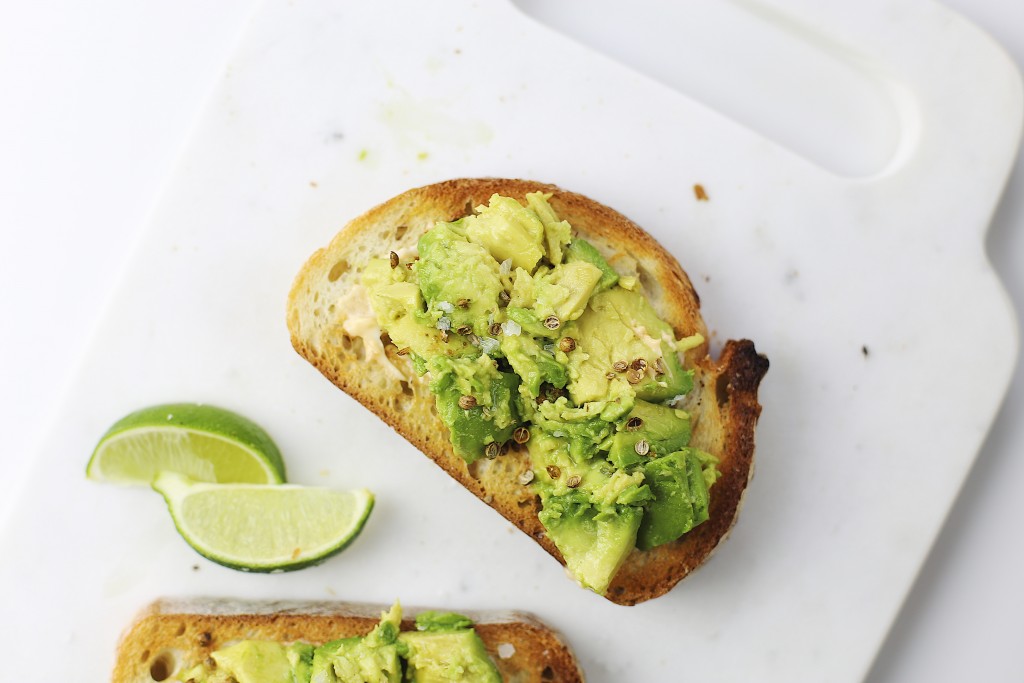 For this recipe I've teamed up with Wolf Gourmet to highlight their 4-slice toaster.  For years, I've been using a toaster oven at home and every time I use it, I remember how much I hate it.  It takes forever to toast bread and doesn't even do a particularly good job.  So I was pretty excited to finally have a reason to make the switch to a pop up toaster and the Wolf Gourmet 4-slice didn't disappoint.  After using the Wolf Gourmet 4-slice toaster for this recipe, I'm totally sold on it and will definitely not be going back to the toaster over.  It was quick, gave me perfectly even browning, and it's also pretty easy on the eyes.  What else could you ask for in a toaster really? You can purchase the toaster at Williams-Sonoma.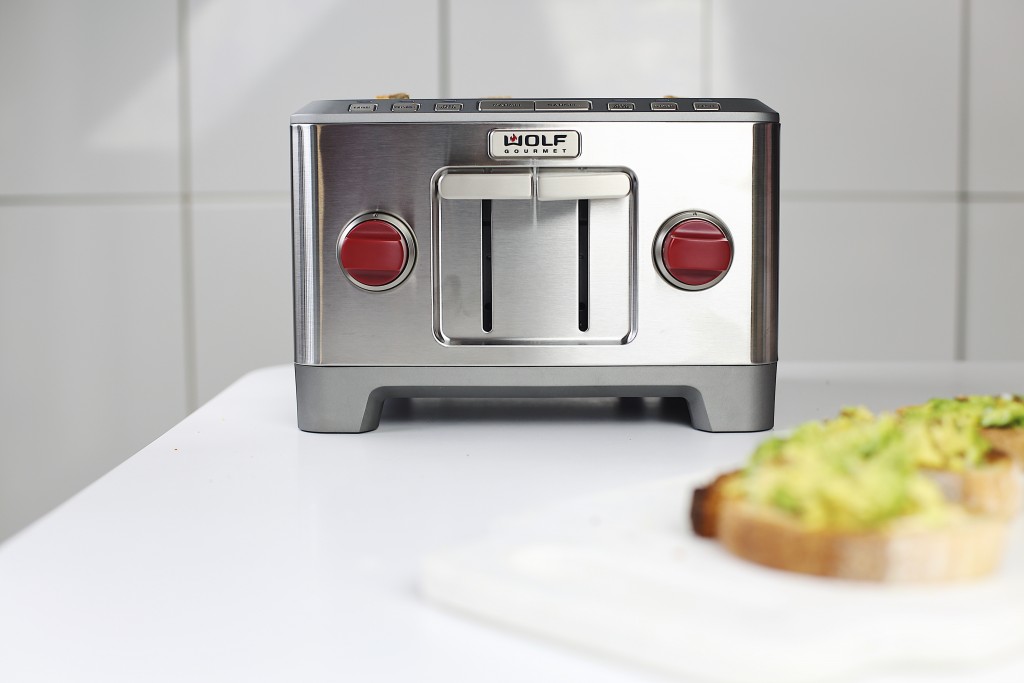 Alright, on to the avocado toast.  First let me say that if you think avocado toast is just avocado toast, you haven't experienced enough of it.  Like I said earlier, there is nothing wrong with a basic avocado toast.  But for when you need something a little extra, this is the avocado toast for you.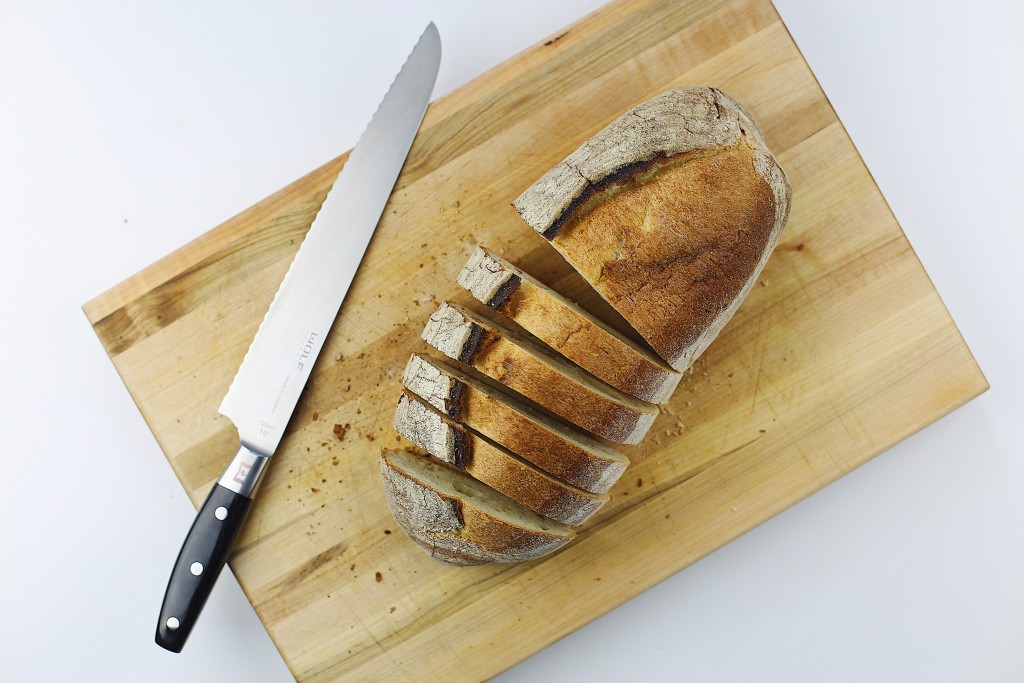 A few things set this apart.  The first thing is the bread.  You want a crusty bread.  It doesn't really matter but something with a bit of a chew.  French bread, baguette, or sourdough would work perfect.  You want to toast it until golden brown.  I used level 6 on this toaster.  The next thing that sets this apart is a bit of garlic.  When the bread comes out of the toaster, you want to rub each piece with a clove of garlic.  It's an easy thing to do, but it really makes a difference. Chipotle mayo is what takes this avocado toast to the next level.  Avocado is already creamy on its own so the addition of chipotle mayo is really a luxurious addition.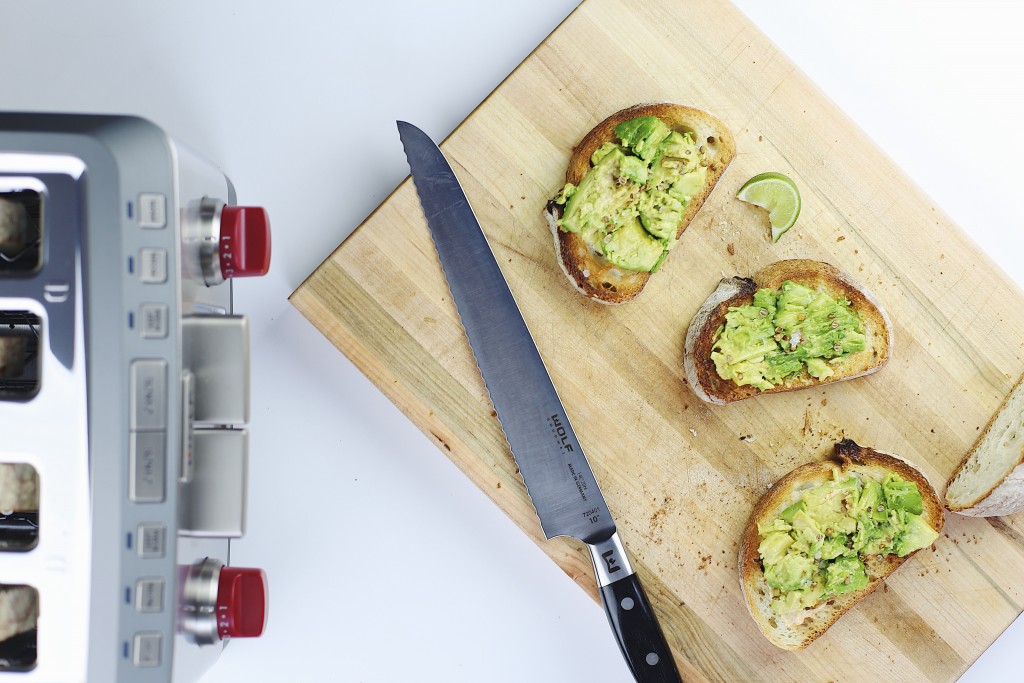 The last unique thing about this is the toasted coriander.  I love the flavor of coriander seed, especially when it's toasted.  I find that it meshes perfect with the avocado, chipotle, and lime in this case.  When it comes to the actual smashing of the avocado, there are a few routes you can take.  You can mash it all up in a bowl and then spread it on the bread.  But I find that's a bit more like guac.  The avocados I had for this recipe were so perfect I didn't want to completely smash them.  Instead, I cubed them and then gave them a light press with a fork in order to get a bit more texture out of the avocados.  That's really just a preference though.  You could smash the avocado, more, less, or not at all depending on your mood.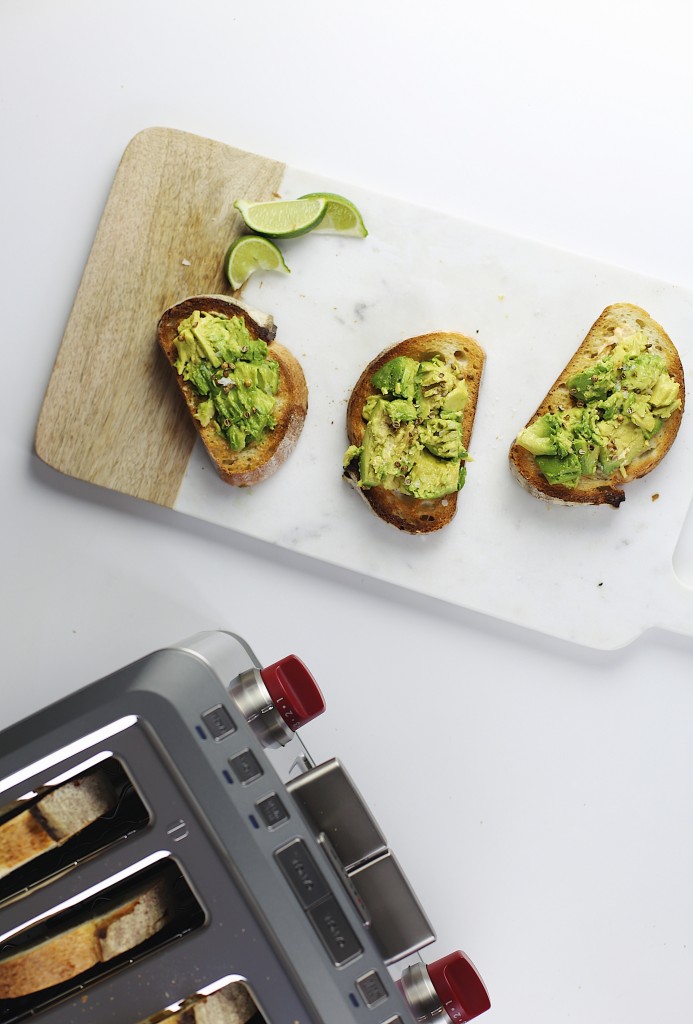 If you're wondering why there are only 3 toasts in the pictures, it's because I couldn't resist and ate one before I could take pictures.
Now for the recipe.
Avocado Toast with Chipotle Mayo & Toasted Coriander
Ingredients
2 ripe avocados
4 slices of crusty bread
4 tbsp chipotle mayo
1 tbsp coriander seeds
1 clove of garlic
1 lime, cut into wedges
4 pinches of maldon sea salt or other finishing salt
Method
Toast your bread until perfectly golden brown and then rub each piece with the clove of garlic.  While the bread is toasting, halve the avocados and carefully remove the pits using a sharp knife.  Score the avocado halves in a cross-hatch pattern and then using a spoon, slide between the flesh and skin to get out the cubes.
Toast the coriander seed in a dry pan over medium heat until fragrant moving them around every 30 seconds or so.  Allow them to slightly cool, then crush using the bottom of a heavy pan or pestle and mortar. Set aside for now.
Spread about 1 tbsp of chipotle mayo on each piece of toast leaving a bit of the bread exposed around the edges.  Top each piece of toast with 1/2 an avocado (cubed) and then lightly press them down using a fork.  Sprinkle the coriander amongst the toast and then add a pinch of salt to each toast as well.  Serve with lime for squeezing.