Bourbon-BBQ Glazed Ribs
If you read my last recipe on avocado tacos, you know that I've been working with Reynolds on their Endless Table Program focusing on summer BBQ. Check out the link to see it on Instagram and also check out their website to see many more amazing summer recipes.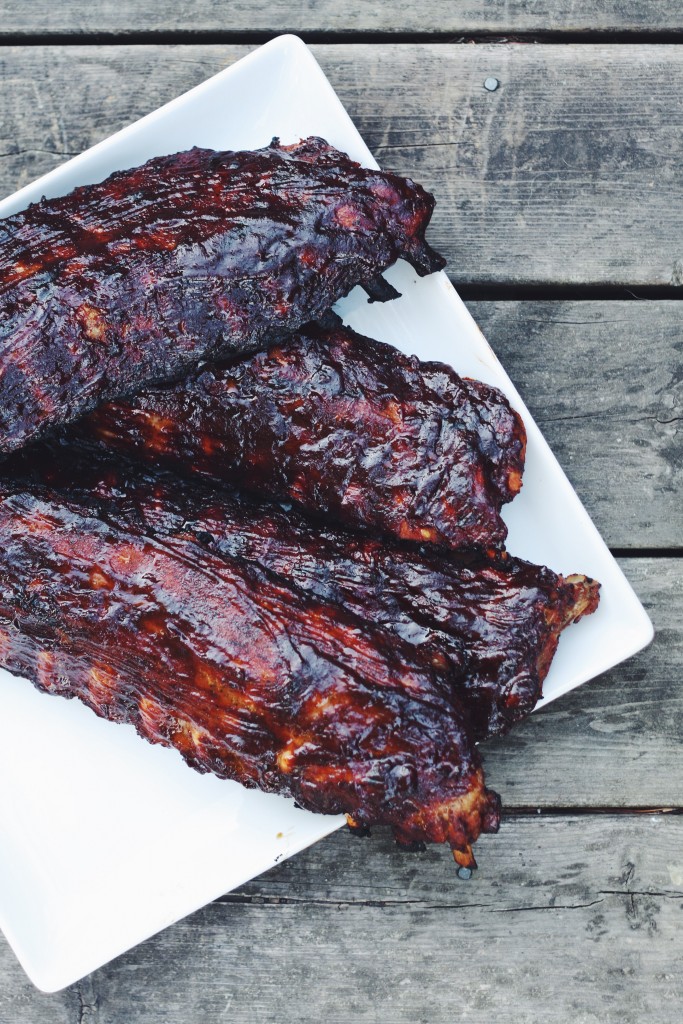 In my opinion, there is nothing more BBQ than a big rack of ribs.  Traditionally, BBQ ribs are done low and slow in a smoker.  Don't worry if you don't have a smoker, you can get just as good results using your oven and some aluminum foil.  The key is a tight wrap in foil and a low temperature in the oven.  A great BBQ sauce doesn't hurt either.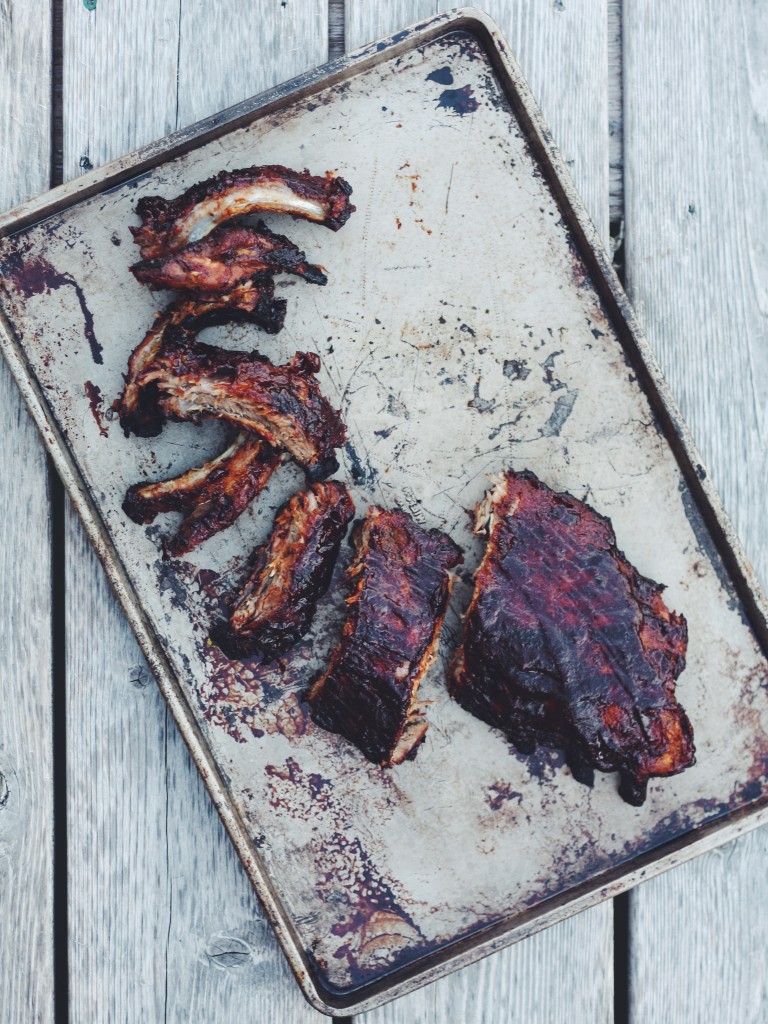 I've tried several different ways of making ribs at home and this method is probably my favorite.  It's also the easiest.  Most of the work happens in the oven giving you plenty of time to prep the BBQ sauce and the rest of dinner.  Speaking of the rest of dinner, I love to serve these ribs with a creamy red cabbage slaw.  They go perfectly together.
Here are a few tips I think are useful for making this recipe.  One of the most important things is to ensure you have a tight seal when wrapping the ribs.  You don't want any leaks in the oven.  Leaks will not only result in a dryer rib but also will be a nightmare to clean up.  If you're not sure if the seal is tight, throw an extra layer of foil on the ribs.  Also, be very careful when unwrapping the ribs.  The liquid inside the foil will be super hot.   Finally, when barbecuing the ribs, don't worry if the bottoms get a little too charred.  You can't really burn them.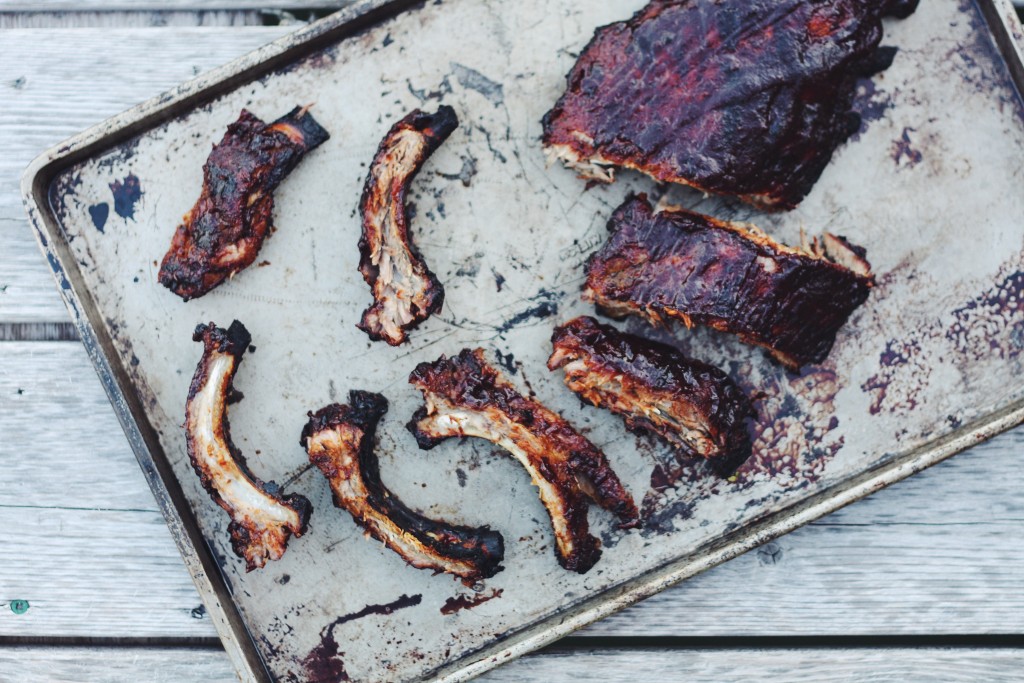 When creating this recipe with Reynolds, it was intended to be an appetizer with the ribs cut individually and served for sharing.  You can definitely serve in bigger portions and use multiple racks though. If you've never made ribs before, or are hesitant that you can make delicious ribs without a smoker, trust me and give these a try.  You'll be surprised at how easy it is to make amazing ribs at home.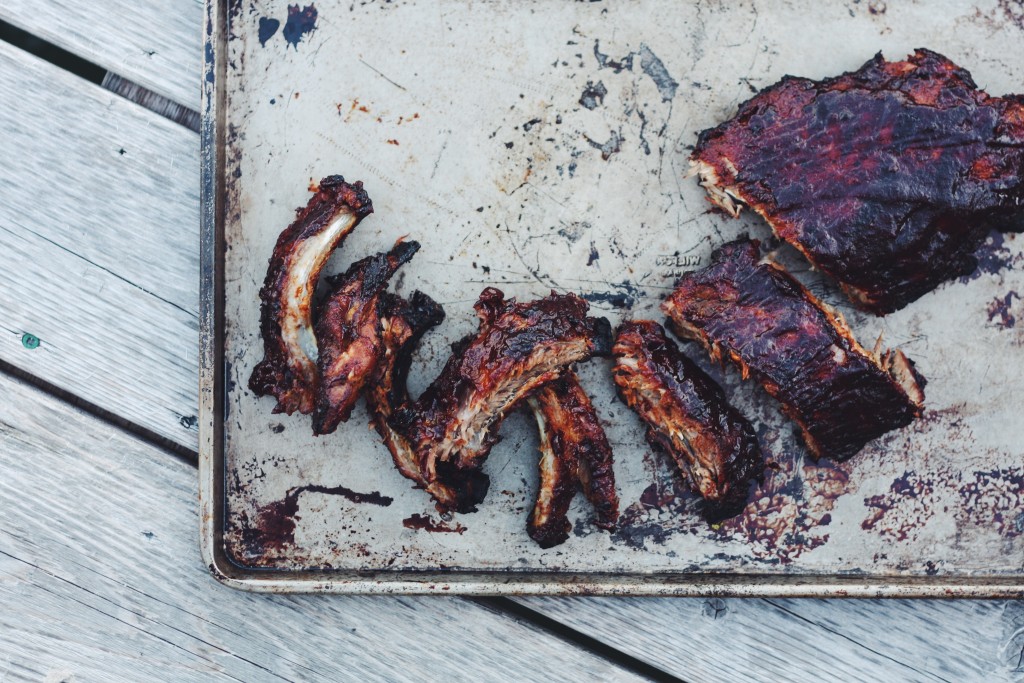 Bourbon-BBQ Glazed Ribs
Ingredients
1 full rack baby-back ribs (outer membrane removed)
4 ounces apple juice
Dry Rub
2 tablespoons brown sugar
1 tablespoon sea salt
1 tablespoon fresh cracked black pepper
1/4 tablespoons garlic powder
1/4 tablespoons onion powder
1/4 tablespoons ground coriander seed
1/4 tablespoons ground mustard seed
1/8 tablespoon cayenne pepper
Bourbon BBQ sauce

1/2 cup ketchup
1/4 cup bourbon (use your favorite)
2 tablespoons apple cider vinegar
1 tablespoon Worcestershire
1/2 tablespoon Dijon mustard
1 1/2 tablespoons brown sugar
1 tablespoon molasses
1 clove garlic, finely minced
1/2 tablespoon soy sauce
1 teaspoon onion powder
1 teaspoon fresh cracked black pepper
1 pinch of sea salt
Method
Combine all the ingredients for the dry rub in a small bowl and mix together well.
Tear a large piece of Reynolds Wrap® Aluminum Foil and place the rack of ribs on it, meat side up. Evenly coat both sides of the ribs with the dry rub, pressing it in with your hands.
Fold up the sides of the foil to create a rim, and pour the apple juice in around the ribs. Fold the foil over the ribs and crimp it to create a tight seal. Tear off one more piece of large foil and wrap the whole thing again to ensure a tight seal.
Place the wrapped ribs in the fridge to marinate for 2 hours.
Preheat oven to 225°F and cook ribs for about 4 hours. You should be able to easily pierce them with a fork, but they shouldn't be falling off the bone.
Combine all the bbq sauce ingredients in a medium saucepan and bring to a boil over medium heat. Reduce to a simmer and allow the sauce to thicken and reduce by about a third, stirring occasionally
Preheat grill to high heat. Place the cooked ribs on the grill, meat side up and brush the top with a layer of sauce. Close grill until the sauce is mostly dried, about 5 minutes. Brush another layer of sauce on top and close grill for an additional 5 minutes. Remove ribs from grill and lightly brush with one more layer of sauce.
Cut the ribs into individual pieces and serve with extra sauce.