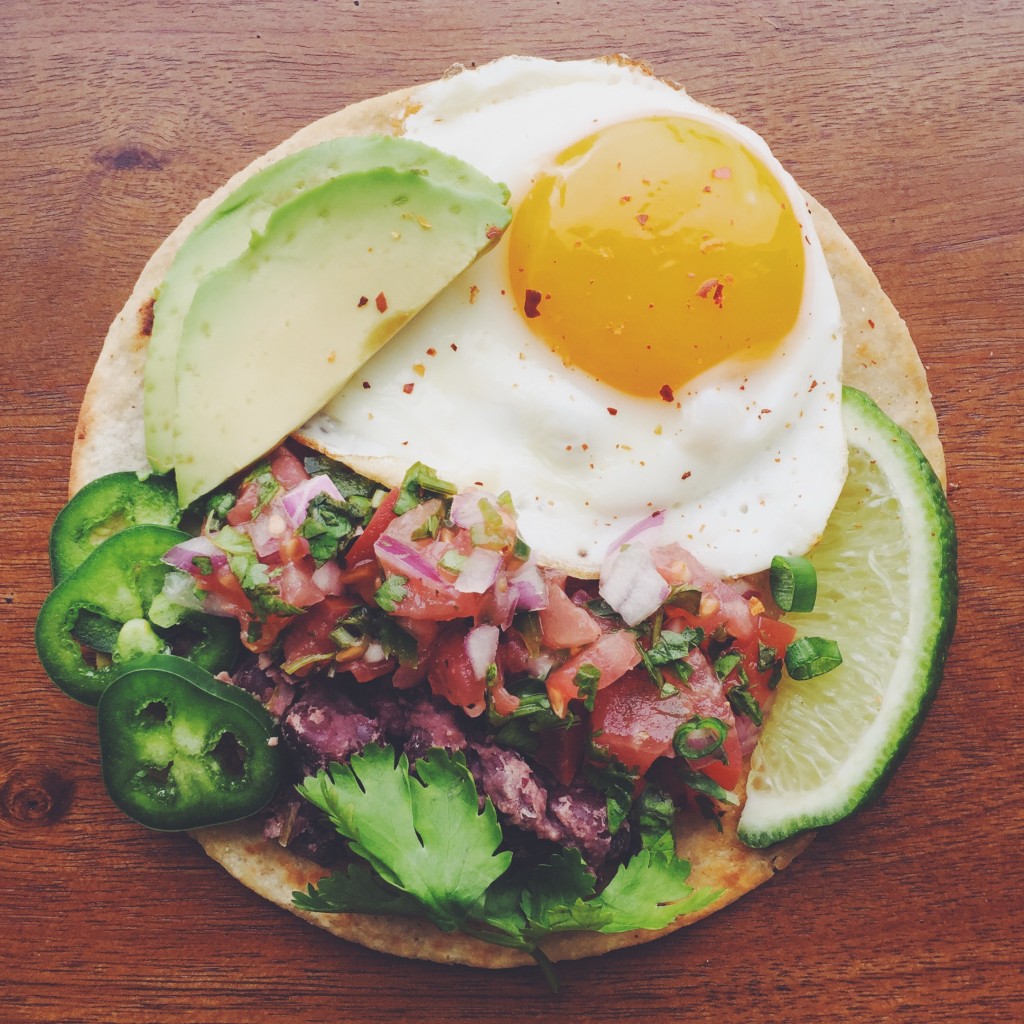 Huevos Rancheros is a great way to enjoy an egg at breakfast. This one is topped with cilantro for freshness and jalapeno for bite.
Huevos Rancheros 
Ingredients
4 eggs
4 corn tortillas
1 can black beans, rinsed and drained
1/4 chicken broth (can substitute for vegetable broth)
2 limes
1 avocado, sliced
2 shallots, chopped
2 cloves garlic, finely minced
2 jalapeños, (1 finely minced 1 sliced for garnish)
Small handful cilantro, stems finely chopped and leaves torn
1 tbsp butter
1 tbsp olive oil
salt and pepper
Method 
To make the black beans, heat a skillet over medium heat and drizzle with olive oil.  Add the shallots, chopped jalapeño, cilantro stems, and garlic. Sauté for about 5 minutes until softened, stirring often.  Add the rinsed black beans along with the chicken broth and allow it to simmer for about 10 minutes, stirring throughout.  Squeeze in the juice of 1 lime. Roughly mash the mixture with a fork or wooden spoon and season to take with salt and pepper.   Remove from heat and set aside.
Melt butter in a pan over medium-low heat.  Fry each egg until the whites have set but the yolks are still runny.  While the eggs are frying, warm tortillas in a separate pan on medium heat for 1 minute per side.
To build, layer each tortilla with a some of the black bean mixture and a spoonful of pico de gallo.  Place a fried egg on top and finish with a few slices of avocado, jalapeño, cilantro leaves, and a wedge of lime.  Season with additional salt and pepper if desired.