Homemade Pasta with Fire Roasted Tomato Sauce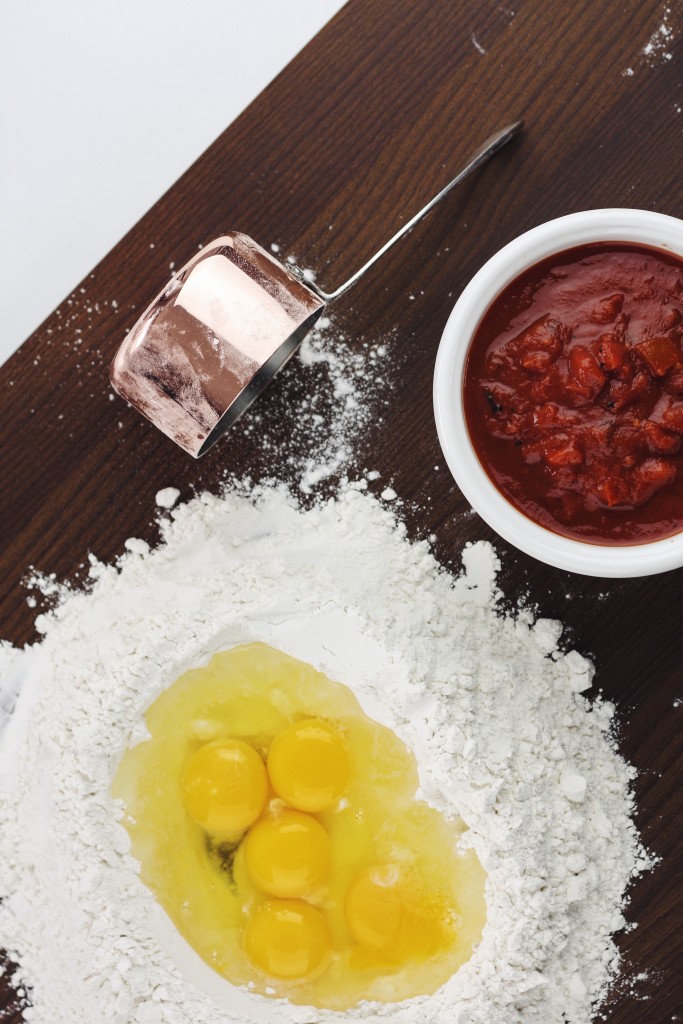 Pasta is one of those things that I love making for a nice weeknight meal.  It's something you can make with very few ingredients and I guarantee you that you usually have all the ingredients you need to make fresh pasta and sauce from scratch.
I seem to always have canned tomatoes in my cupboard and there is a good reason for that; there are so many meals you can make out of them.  Whether it's pizza, tomato soup, or this pasta sauce, canned tomatoes are perfect for creating a meal out of nothing.  For this recipe I used Muir Glen, fire roasted tomatoes.  While Fire roasted tomatoes aren't necessarily my go-to for a pasta sauce they provide a nice change of pace and definitely added a bit of sweetness and a hint of smokiness.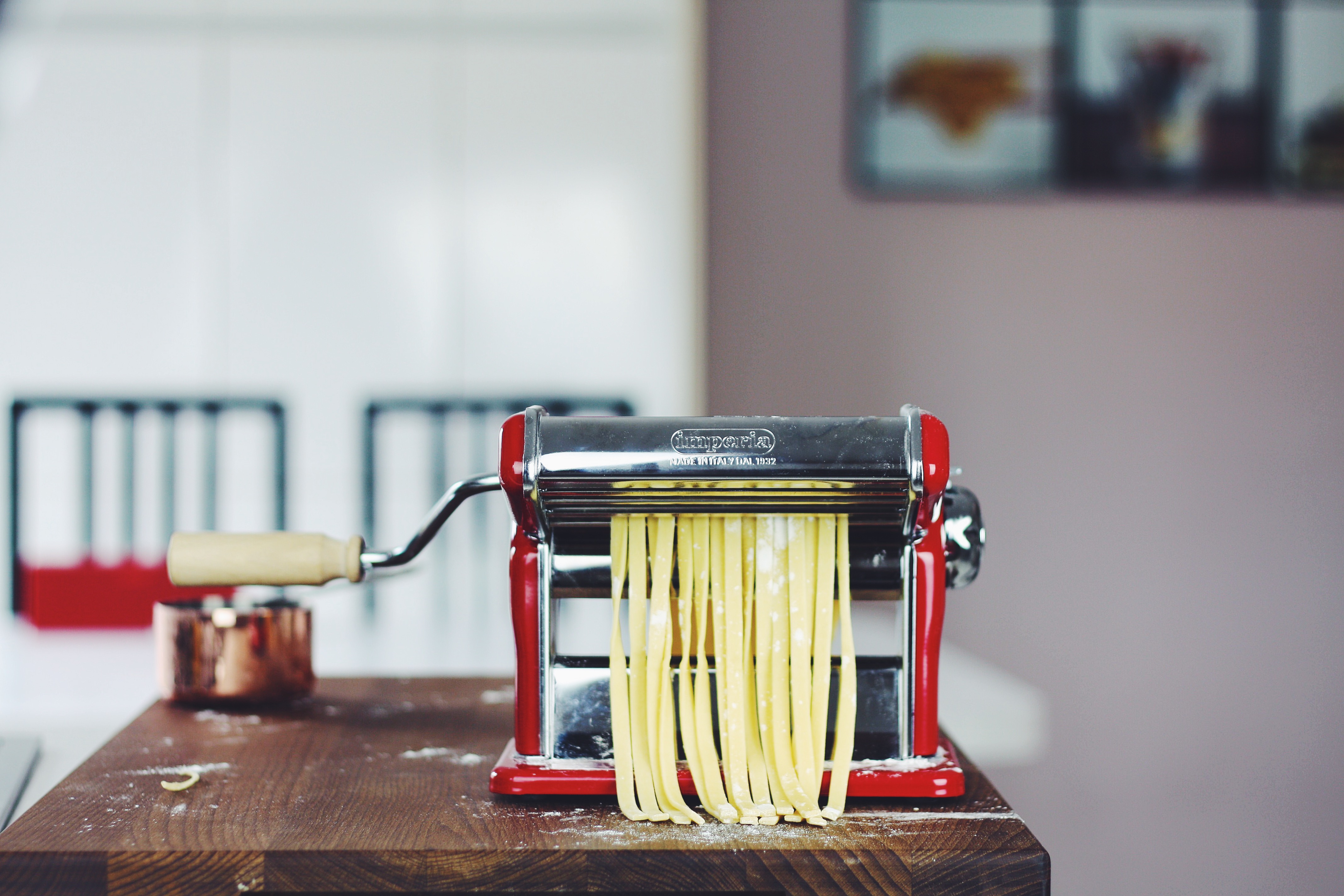 Making pasta from scratch may seem a bit overwhelming if you've never made it before but it's relatively simple and can be a very fun activity to do.  Technically, you don't need any special equipment but a pasta roller definitely makes things easier and they aren't too expensive.  If you don't have one, you can always roll out the dough and cut the noodles by hand.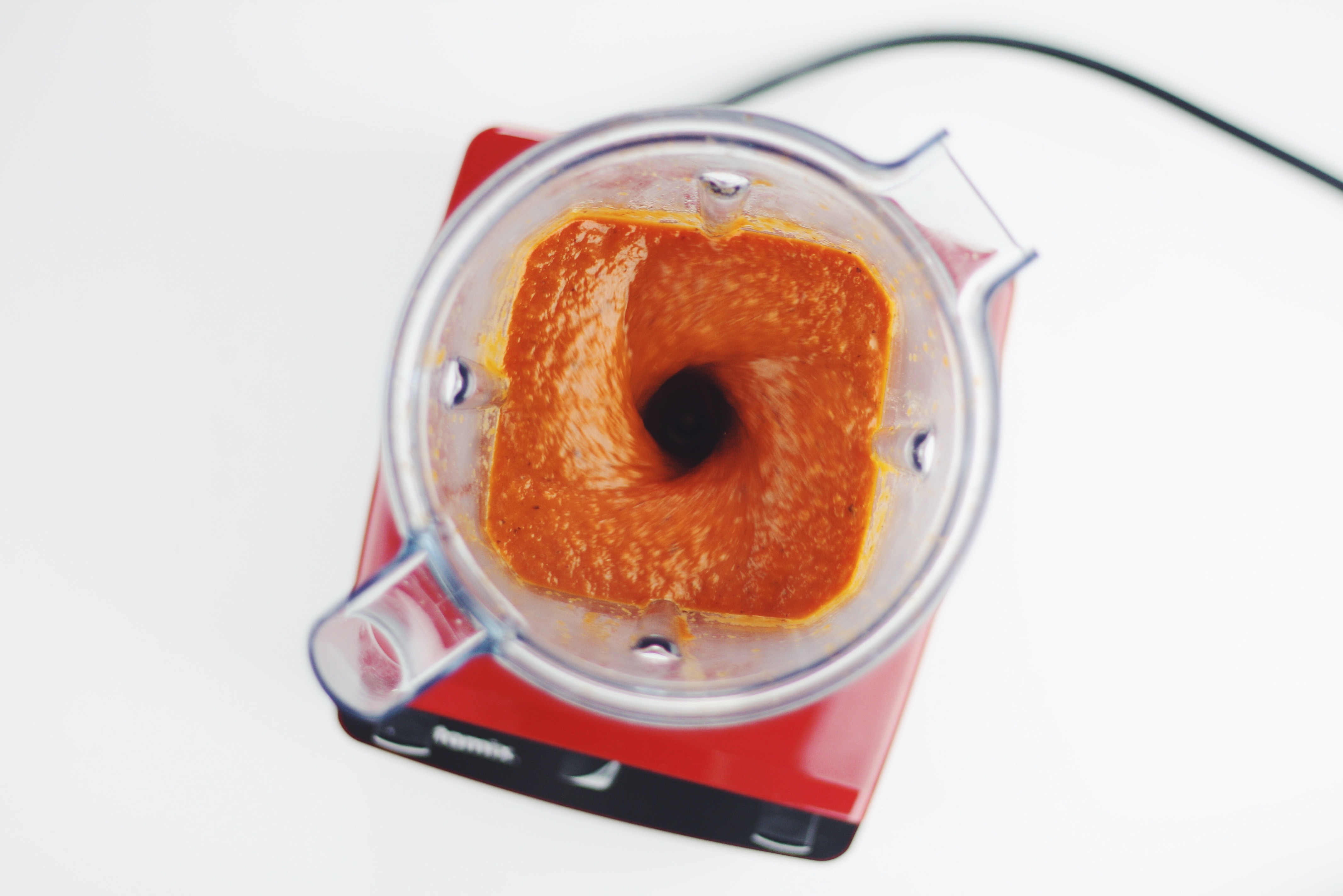 I created this recipe in partnership with the feedfeed and Muir Glen as part of an Instagram takeover.  Definitely check out both Muir Glen and the feedfeed for more delicious cooking inspiration & recipes.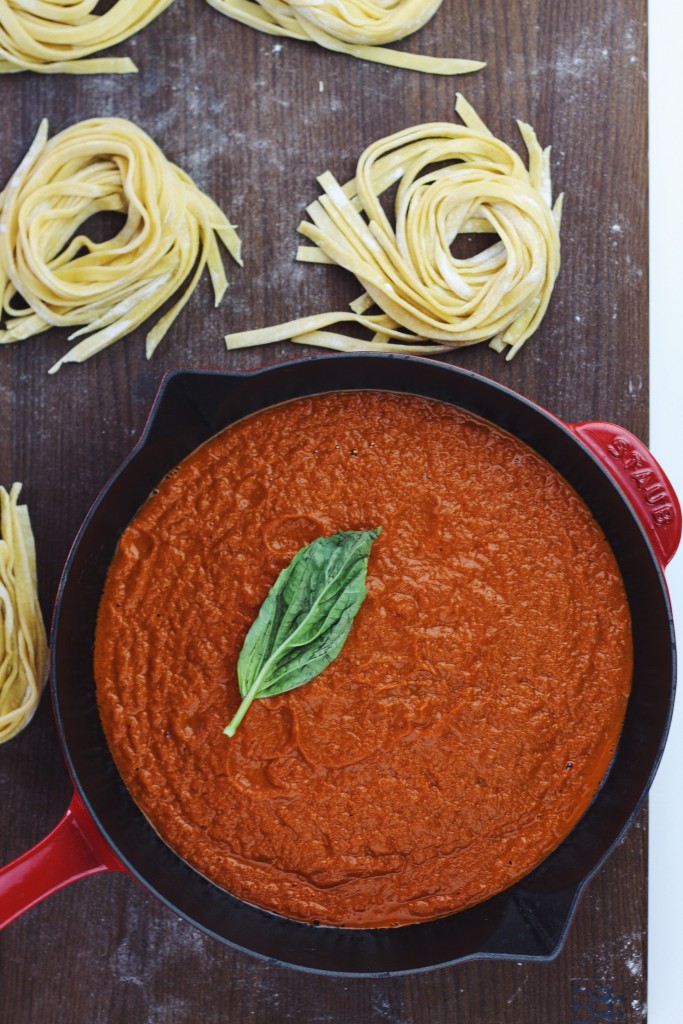 Ingredients
For the dough
     

3 ¼ cups all purpose flour, plus extra for dusting

     

4 large eggs

     

2 tablespoons water
For the sauce
     3-5 cloves garlic, sliced

     

2 tablespoons olive oil

     

Pinch of dried chili flakes

     

Pinch of dried oregano

     

1 28oz can

Muir Glen Fire Roasted Crushed Tomatoes

     

Kosher salt, to taste

     

Handful of parsley, chopped for garnish

     

A few basil leaves, for garnish

     

Parmesan, for grating
Method
To make the pasta
Pour the flour onto a large board or clean surface and form a well in the middle.  Crack 4 eggs into the well and add in the water.  Using a fork, gently beat the eggs together and start to slowly incorporate the flour into the eggs until a dough begins to form.  If it's too dry, add more water at ½ tablespoon increments, if it's too wet, sprinkle in more flour in 1 tablespoon increments.  At this point it will be much easier to start using your hands to form the dough.  Once the dough starts to hold together, begin to kneed it with your hands for about 10 minutes and then form into a ball and cover with plastic wrap to rest for about 30 minutes.

Alternatively, if using a stand mixer, combine all the dough ingredients into the bowl with the flat mixer attachment and mix for about 1 minute and then turn it off.  It's normal for the dough to be slightly crumbly at this point.  If it's too dry, add more water at ½ tablespoon increments, if it's too wet, sprinkle in more flour in 1 tablespoon increments.  Swap the flat mixer for the dough hook and run the mixer on speed 2 for about 2-3 minutes or until the dough is formed and sticking to the dough hook.  Dump the dough onto a floured surface and knead by hand for another minute or 2 until it is elastic and smooth.  Wrap in saran plastic and allow it to rest for about 30 minutes.

Once the dough has rested, cut it into 4 equal pieces.  Using a rolling pin, roll one of the pieces into a rectangular-ish shape and feed it through your pasta roller on the widest setting.  Cover the unused pieces with plastic wrap or a damp kitchen towel while rolling.  Continue to roll the sheet through the machine and progressively set the machine to a thinner setting until desired thickness is reached.   Lightly flour the rolled sheet and cover with a damp kitchen towel.  Repeat this step for the remaining pieces of dough.

Add the

spaghetti attachment to

the pasta machine and begin to feed the sheets into it.  Be sure to lightly flour the sheets (and machine) before rolling them through to prevent the noodles from sticking.  Twist the pasta into little nests and allow them to dry a bit before cooking them.  If you are going to have a long delay between cutting the noodles and cooking, cover them with a slightly damp kitchen towel.
To make the sauce
Heat olive oil in a heavy skillet over medium heat.  Add in the garlic, chili flakes, and oregano stirring to ensure the garlic doesn't burn.  Once the garlic is golden, add in all of the tomatoes and bring to a simmer, stirring occasionally.

Once the tomatoes are at a simmer, turn heat to low and cover for at least 15 minutes.  Transfer the sauce to a blender and blend until smooth.  Be careful of escaping steam, depending on the size of your blender, you may want to do this in several batches.  Once the sauce is smooth, return it to the skillet over low heat and season to taste with salt.  Allow the sauce to continue simmering with a lid on until ready to eat.  If the sauce gets too thick, just add a splash of water to thin it out.

To cook the noodles, add a few very generous pinches of salt to a large pot of boiling water

.  Add the noodles and cook for about 3 minutes.  Fresh pasta cooks very quickly so be sure to keep an eye on it.  Before straining draining the noodles, reserve a

cup

of cooking water.  Add the strained noodles to the sauce along with a big splash of the cooking water.  Combine well with the sauce and then garnish with chopped parsley and a few basil leaves.

 

Serve family style right from the skillet and grate in fresh Parmesan at the table.