Easy Homemade Margherita Pizza 
Making pizza from scratch is a lot easier than you think.  If you've never done it before, you should definitely give it a try.  This recipe is for a Margherita pizza made with a simple tomato sauce, mozzarella, and a bit of fresh basil.  But you could use any toppings you like and change it up.  Working with the dough takes a bit of practice, so don't worry if you're pizzas don't come out perfectly round, mine usually don't.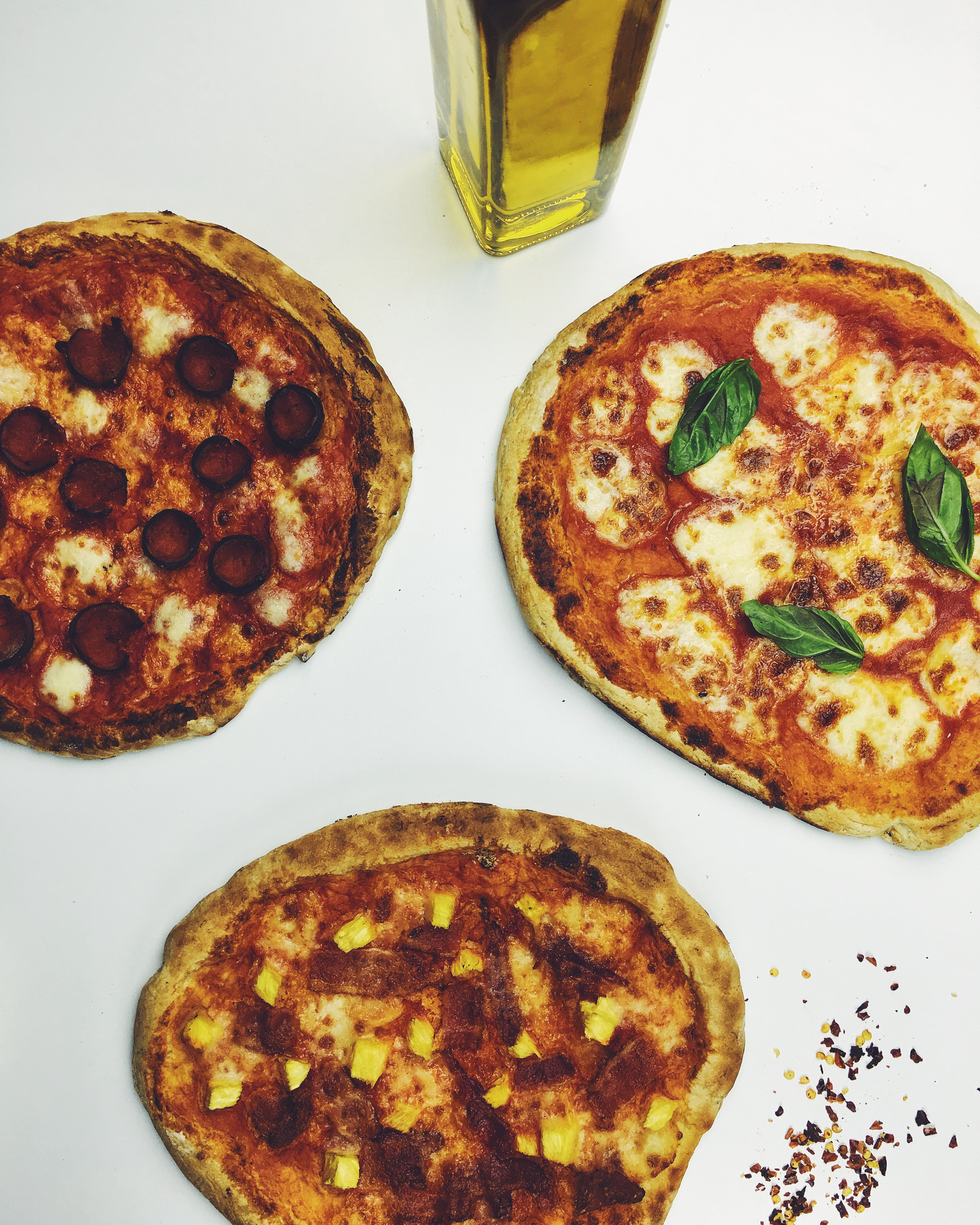 This pizza is all about simplicity.  The sauce is pretty much just one ingredient: a blended can of San Marzano tomatoes.  It seems a little too simple, but trust me, it's all you need.  Same thing goes for toppings.  All you need is a little bit of mozzarella and some fresh basil to garnish with.  The flavours all go so well together and each one really speaks for itself.
Margherita Pizza
Ingredients
For the dough
3 cups all purpose flour, plus more for dusting
1 cup warm water (about 110° F)
1 packet active dry yeast
2 tablespoons of olive oil, plus more for greasing bowl
1 tablespoon kosher salt
1 teaspoon sugar
Toppings
1 ball of fresh mozzarella, torn into small pieces
Handful of basil leaves
1 can (14 oz) San Marzano tomatoes
Big pinch of dried oregano
Kosher salt
Olive oil for drizzling
Method
In the bowl of a stand mixer, add the warm water, yeast, and sugar.  Allow 10 minutes for yeast to start bubbling.  With the mixer running on low (with dough hook attachment), add the salt and olive oil.  Slowly add the flour in several additions until the dough starts to form.  If it's too sticky, add a bit of flour, if it's too dry, add a splash of water.  Continue to mix on low for about 5 minutes.
Dump the dough onto a floured surface and knead with your hands for an additional minute or two.  Form into a ball and place in a large greased bowl and cover with a damp kitchen towel or saran wrap.  Place the dough somewhere warm to rise for 2 hours or until about doubled in size.
To make the sauce, blend the whole can of tomatoes with a pinch of oregano and season to taste with salt.
Preheat oven (and pizza stone if you have one) to 500°F
When the dough has risen, punch it down and dump it out onto a floured surface.  Divide it into 3-5 pieces (depending on the size of pizza you want and form them into round disks.  Cover each disk for 15-20 minutes for another quick rise.  Now to form the dough into it's final shape, roll out each piece of dough into a thin round circle.  If you feel confident, you could stretch it out with your hands instead.
To make the pizzas, drizzle the dough with a bit of olive oil and spread on a thin layer of tomato sauce.  You don't need a lot.  this is a situation where less is more.  Place on some torn mozzarella and then transfer to pizza stone.  Bake for 10-15 minutes or until the crust is golden and the cheese is bubbly.