Fried Chicken Burger 
It seems like there is some sort of national food day going on every single day.  April was national grilled cheese month and now May is national burger month, which I'm definitely not complaining about.  I'm all about any excuse to make and eat burgers.  To kick off national burger month, I combined two of my favorite foods, fried chicken and burgers to create the ultimate fried chicken burger.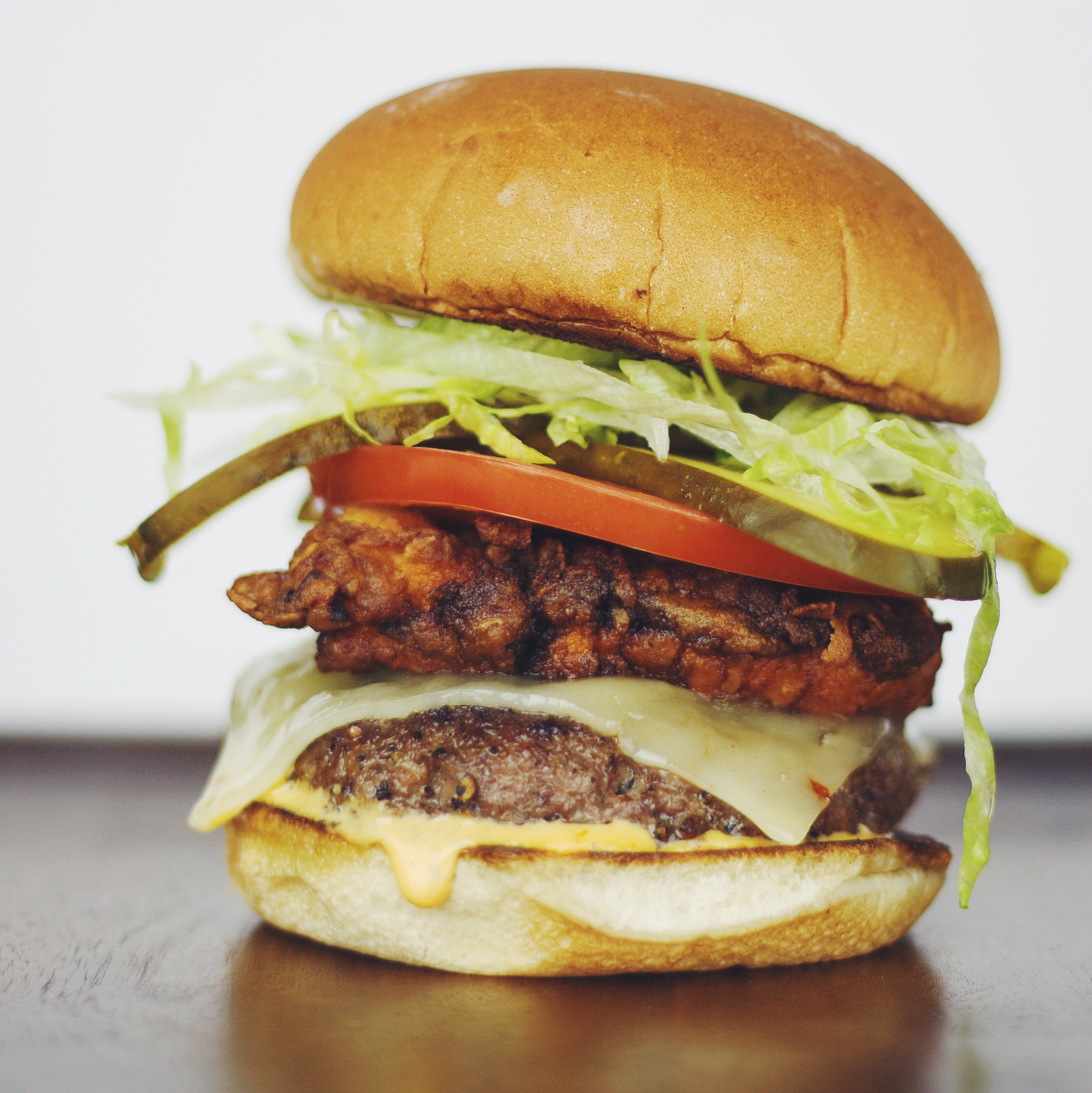 It starts with a juicy 1/4 patty made from ground chuck, then a crispy piece of fried chicken that's been marinated in buttermilk and hot sauce. It's topped with some shredded lettuce, pickle and tomato for a bit of a refreshing crispness.
Fried Chicken Burger 
Makes 4 burgers
Ingredients
For the chicken:
2 boneless skinless chicken breasts, pounded to an even thickness
1 1/2 cups all-purpose flour
1/2 teaspoon salt
1/2 teaspoon cayenne
1/2 teaspoon garlic powder
1/2 teaspoon paprika
1 cup buttermilk
2 tbsp Frank's red hot
Canola oil, for frying
Everything else:
1 lb ground chuck
4 slices pepper jack cheese
1 tomato, sliced
1 pickle, sliced
Iceberg lettuce, shredded
3 tbsp butter
Salt and pepper
4 buns
Method
In a bowl, marinate the chicken in the buttermilk and hot sauce and refrigerate for at least 2 hours and up to 24 hours. Set up another bowl and combine the flour, salt, cayenne, garlic powder, and paprika and combine well.  Working one piece at a time, move the chicken from the buttermilk into the flour and coat well, then back into the buttermilk and then into the flour again for a second coat.  Place on parchment paper and heat oil to 365°F.  Carefully place the chicken into the hot oil and fry for about 5-7 minutes or until an internal temperature of 165°F is reached.
Heat skillet over medium high heat and melt in 2 tbsp of butter.  Form the meat into 4 equal sized balls and gently squish them into patties using your hands.  You want them to be slightly larger than the buns (check out my burger tips for more info). Season one side generously with salt and pepper.  Fry for about 2 minutes per side and be sure to season the unseasoned side once they are in the pan. Place the cheese on the burgers right after the flip so it starts to melt. While the burgers are cooking, melt remaining butter in a separate pan over medium high heat and toast the buns until golden brown.
To build the burgers, spread a layer of your favorite sauce (I used this special sauce) on the bottom bun and then top with the patty, then the chicken, and then the tomato, pickles, and lettuce.  Squish on the top bun and then dig in!