6 words for you – no bake key lime cheesecake bars.  Did I mention they are drizzled in dark chocolate?   Cheesecake is definitely one of my favorite desserts and these no bake bars are no exception.  They are so smooth and creamy and have just the right amount of citrus from the lime.   Because they are no bake, they are also super simple to make.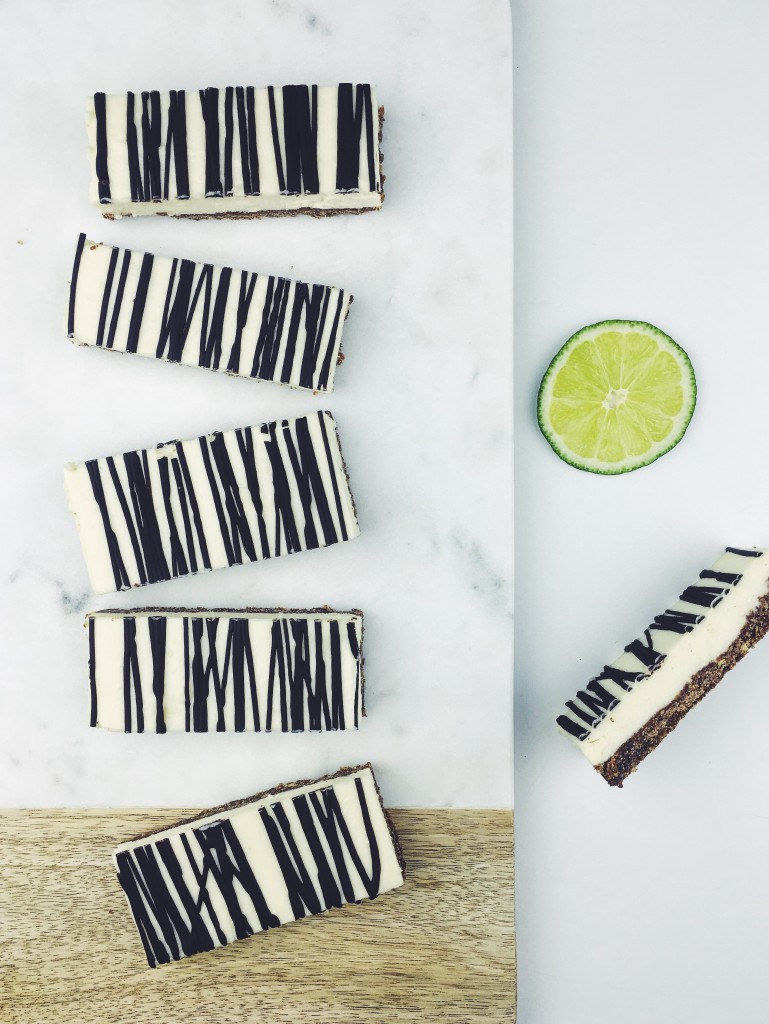 I could eat these all day.  Give them a try and let me know what you think!
No Bake Key Lime Cheesecake Bars 
Ingredients
For the crust:
9 oz ginger snap cookies
2 oz dark chocolate, melted
1 stick unsalted butter, melted
2 tablespoons brown sugar
For the cheesecake filling:
16 oz cream cheese, at room temperature
1 can (14 oz) sweetened condensed milk
1/4 cup granulated sugar
1/2 cup key lime juice
2 teaspoons gelatin powder, unflavoured
1 tsp vanilla extract
2 oz dark chocolate
Method
To make the crust, pulse cookies in food processor with sugar until fine.  Pour until the melted chocolate and butter and continue to pulse until fully combined.  Line a 9×13 baking pan with parchment paper (leave an overhang so you can easily remove the bars later) and spread the crust mixture into the pan.  Press down firmly and evenly coat the bottom.  Place in fridge while you make the filling
In a small saucepan, gently heat the lime juice.  Add sugar and gelatin then whisk until dissolved.  Remove from heat and allow to cool.
In a stand mixer or with a hand mixer, beat the cream cheese on high for 5 minutes, scraping the sides of the bowl as necessary.   Add the sweetened condensed milk and vanilla then continue to beat until fully incorporated.  Pour in the key-lime mixture and beat until everything is silky smooth.  Evenly pour the mixture onto the crust and allow the cheesecake to set in the fridge for at least 4 hours.  I left it overnight.
After at least 4 hours, melt the remaining dark chocolate and drizzle over the cheesecake.  Place in fridge or freezer (I prefer freezer) for 30 minutes to allow it to firm up.  When ready to serve, remove from the pan and slice into bars of your desired size.